Photoshop 6 Down & Dirty Tricks
by Scott Kelby
New Riders, May, 2001.
Trade Paperback, 220 pages.
ISBN: 073571147X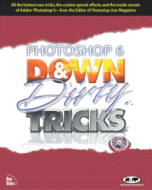 There are plenty of books with Photoshop tricks and tips, but this book focuses solely on providing detailed, illustrated procedures for Photoshop tricks and impressive special effects. Each trick is illustrated with full-color screen shots detailing each specific step. The instruction is clear and concise. In addition to the screen shots and step-by-step instruction for each Photoshop trick, the author also provides practical Photoshop advice in the margins. Categories covered in the book include drop shadows, cool font types, metal and chrome effects, photographic effects, paint and brush effects, advertising effects, background effects and interface design.
Scott Kelby is also the editor-in-chief of
Photoshop User
, a monthly publication for Photoshop users, and the president of the National Association of Photoshop Professionals. So, he knows a good Photoshop trick when he sees one. Photoshop users will love the large, visual examples that illustrate Photoshop tricks they've always wanted to learn. Kelby's instruction is entertaining and upbeat, and the Photoshop tricks are some of the best you will ever see. Highly recommended.
Photoshop 6 Down & Dirty Tricks
is available for purchase on
Amazon.com
Note: We may receive a commission from sales made through product links in this article.
This review was published in the July, 2001 of The Internet Writing Journal.
Copyright © Writers Write, Inc. All Rights Reserved.