Paddington Bear Goes to the Hospital
by Michael Bond and Karen Jankel, Illustrations by R.W. Alley
HarperCollins, May, 2001.
Picture Book, 40 pages.
ISBN: 0694015636
Ages Baby - Preschool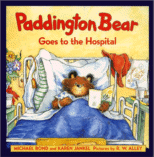 Going to the hospital is frightening even for grownups, so one can only imagine how upsetting it must be for a child who is facing a visit to the hospital. How comforting it is to know that a special friend of children all over the world named Paddington Bear is also facing this same dilemma. Any parent would be delighted to have such a story on hand to read to an anxious child who may be facing a hospital stay.
The adventure begins with Paddington feeling confused and lying on his back on the lawn, paws in the air and a worried family hovering over him. Paddington feels that he may be in Darkest Peru, but Mrs. Bird assures him that he is at home at number thirty-two Windsor Gardens. Mrs. Brown suggests that Paddington might like a bun, but Paddington's reply is "What's a bun?" "That settles it, " declares Mrs. Bird and she calls the hospital. The ambulance, of course is late because they have mistakenly gone to Paddington Station first, before they realize their mistake.
At the hospital Paddington is subjected to all kinds of procedures from x-ray to a tiny pin prick with a needle that puts him right to sleep. The doctor assures Mrs. Brown that all things will be put right and that Paddington's memory should return after a night's rest. Drawings of all the machinery of a modern hospital will be helpful to a child as he views Paddington going through the same procedures that he himself may soon face. Paddington wakes up in a ward with lots of other patients and an attentive nurse who brings water. The nurse says that Paddington must stay overnight for observation. Paddington has misgivings about being observed and feels that he might fall out of bed. The nurse explains the bed and reassuringly tells him that she will be close by. Paddington suffers through all the many visits by kindly strangers in hospital attire which a child facing a hospital stay might encounter. The night spent in the hospital passes peacefully and the next morning Paddington meets all the children in the ward, and finds that many of them will have to stay in the hospital for much longer periods of time. All of the children seem quite happy, though. Paddington finally finds out that his boomerang was the cause of his being hit on the head and dislocating his shoulder, but everything turns out happily . Paddington sums the whole adventure up by stating that he wouldn't mind if he ever had to return to the hospital.
R. W. Alley, an illustrator of many children's books and at least five books about Paddington is happily on hand to make Paddington look just right as he goes through the ordeal of an accident and subsequent hospital stay. The drawings of Paddington are whimsical and the faces of all of the characters in the story show strong emotion and comical expressions. A child reader will move through the story with drawings that bring out the emotions of the moment. Additionally, all of the medical and emergency equipment is drawn in detail so that a child can recognize and understand what he is seeing during the visit.
Paddington, as always, is a reassuring personality with endearing little eccentricities which all bears ought to have. A child who loves Paddington will be greatly reassured by being armed with this little adventure. Michael Bond wrote this book for his own daughter who endured many hospital visits when she was very young.
Paddington begins his misadventure by having an accident. It is a total surprise to him as are all accidents to those on whom they befall. Accidents catch us off guard and we lose our sense of well being in an instant. A child who reads this book can watch Paddington go through this kind of ordeal and feel comforted. It definitely belongs in a family's first aid kit of comforting stories to bring out when things go wrong.
--Sarah Reaves White
Paddington Bear Goes to the Hospital
is available for purchase on
Amazon.com
Note: We may receive a commission from sales made through product links in this article.
This review was published in the Oct. - Nov., 2001 of The Internet Writing Journal.
Copyright © Writers Write, Inc. All Rights Reserved.