Murder is Academic
by Christine Poulson
Thomas Dunne Books, April, 2004.
Hardcover, 240 pages.
ISBN: 0312318073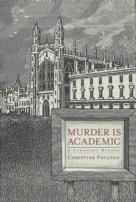 St. Ethelreda's College, Cambridge, may look like a beautiful bastion of intellectual and scholarly pursuits on the outside, but inside those ancient stone walls, the most virulent and vicious of battles are being fought daily in the halls of academia. Professor Cassandra James gets the shock of her life when she visits the home of the head of the English Department, Margaret Joplin. She finds Margaret's dead body in her backyard swimming pool, with the students' exams floating in the water nearby. Cassandra is asked to replace Margaret as Head of the Department, which is in danger of being disbanded altogether if the professors don't get their work published. "Publish or perish" is a very real concept at St. Ethelreda's. When a student is found dead and Margaret's papers reveal that she was having an affair, Cassandra begins to believe that Margaret's death was no accident.
Christine Poulson has the gift of creating an atmosphere which is utterly entrancing. She uses Cambridge and the colleges as a backdrop which frames the characters and lends a mysterious mood to the proceedings. Cassandra has a certain, almost detached quality to her narrative, which fits especially well with the mood evoked. One is always sure that there is more going on than is apparent on the surface. She also has a wry sense of humor that, combined with crisp prose, makes for a very enjoyable read. For Anglophiles and those that love a good academic mystery, look no further.
Murder is Academic
is available for purchase on
Amazon.com
Note: We may receive a commission from sales made through product links in this article.
This review was published in the July-August, 2004 of The Internet Writing Journal.
Copyright © Writers Write, Inc. All Rights Reserved.