Monstrous Regiment
by Terry Pratchett
HarperCollins, September, 2003.
Hardcover, 368 pages.
ISBN: 006001315X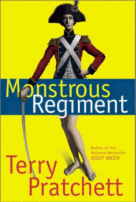 Using his fantasy world, Discworld, as a backdrop, satirist Terry Pratchett takes on the madness of war in this ironic and witty novel. The fundamentalist duchy of Borogravia is always at war; no slight is too petty or small to be overlooked by the military minds of the tiny kingdom, which is ruled by a Duchess who most people think is dead anyway. What with all the casualties, recruits are in short supply. So Polly Perks takes her chances and pretends to be a boy in order to join the army. Polly is determined to find her brother, who went off to war and hasn't been heard from since. If Polly can't find her brother, her family will lose the inn they own because girls can't own a business under the country's absurd laws. (Many things have been labeled Abominations by the country's living god, Nuggan, such as oysters, the color blue, and, of course, women dressing up as men.) Polly joins a regiment which is composed of a troll, a zombie, a vampire and others who have just as much to hide as Polly (now known as Oliver). Oliver and company actually manage to capture a high ranking personage of the opposing force with no training whatsoever and suddenly Oliver's regiment becomes quite famous in Ankh Morpork, thanks to the diligence of a young reporter. The mismatched regiment may manage to change the course of the war entirely.
"To promote a woman to bear rule, superiority, dominion or empire above any realm, nation, or city is repugnant to nature, contumely to God, and the subversion of good order, of all equity and justice." So wrote Scottish theologian and noted sourpuss John Knox in 1558 in his book titled
The First Blast of the Trumpet Against the Monstrous Regiment of Women
, which explained to everyone why Mary Tudor, or in fact any female, was unfit to rule England. Bestselling author Terry Pratchett uses Knox's fossilized ideas as a jumping off point for his hilarious and insightful novel, which satirizes war, the aristocracy and the way in which society views and treats women. Although this is technically the thirty-third Discworld novel, it is not necessary to have read any of the other books to understand and appreciate Pratchett's latest, excellent offering.
--Claire E. White
Monstrous Regiment
is available for purchase on
Amazon.com
Note: We may receive a commission from sales made through product links in this article.
This review was published in the November-December, 2003 of The Internet Writing Journal.
Copyright © Writers Write, Inc. All Rights Reserved.