Maya Running
by Anjali Banerjee
Wendy Lamb Books, February, 2005.
Hardcover, 224 pages.
ISBN: 0385746563
Ages Young Adult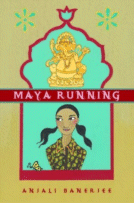 Maya Mukherjee is a middle school student with the feelings and problems of all middle school students. There is only one difference between her and her middle school friends. Maya was born in India and then moved with her parents to Manitoba. She has the problems of cultural identity added to the problems of adolescence. But Maya also finds help that other Canadian teens do not have. Maya's cousin, Pinky, arrives from India with a little gold statue of the god Ganesh, who is a remover of obstacles.
Maya Running
is the story of a teenager who feels she can get Ganesh to remove all the many obstacles in her adolescent life.
The ability to remove obstacles from one's life should appeal to anyone, but as Maya finds out it can make life into a far larger problem than existed before. Maya has a problem with her visiting cousin, Pinky, because Pinky is not only Indian in culture, but she captivates all of Maya's friends. Pinky also catches the eye of Jamie Klassen, the exciting James Dean look-alike that Maya has a crush on. Maya's parents and their friends are another source of irritation for Maya. If only they would stop being full of rules and wanting to move to California so Maya's mother could teach physics at the University. If only teachers would be different. If only she could dance better and not be skinny or wear braces on her teeth. Maya decides to ask the little gold statue of Ganesh help her remove all her obstacles. When she asks, things begin to happen fast.
Maya wakes up one morning find herself on a journey through a dream world with no obstacles. As her dream world weaves in and out of reality, Maya learns what life would be like if she had it her way. The results are hilarious. Her misadventures grow at an alarming rate as everything turns out just the way she thinks she would like it. Maya learns to accept her culture and her situation with wisdom and wit. At first Ganesh's powers seem like the perfect answer that any teen would love to have, but that is far from what actually happens. Nevertheless, Ganesh has much to teach Maya about dealing with reality. This is a funny, wise and delightful tale which young readers are sure to enjoy.
--Sarah Reaves White
Maya Running
is available for purchase on
Amazon.com
Note: We may receive a commission from sales made through product links in this article.
This review was published in the January-February, 2005 of The Internet Writing Journal.
Copyright © Writers Write, Inc. All Rights Reserved.