Lord of the Nutcracker Men
by Iain Lawrence
Delacorte Press, Oct., 2001.
Hardcover, 212 pages.
ISBN: 0385729243
Ages 10 & up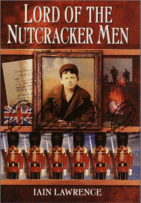 Iain Lawrence has presented us with a tale that evokes the personalities and the feelings of the era of World War I, while still keeping us in suspense about the final outcome. This is clearly an outstanding story for today's young people. Because of the increased popularity of biography and fictional biography, no doubt due to the excellent offerings on television, the ten to thirteen year old set will clearly find
Lord of the Nutcracker Men
to be one of their new favorites.
Johnny is ten years old and he lives in London with his parents during the early days of World War I. Johnny's father is an outstanding toy maker by profession and one of his creations, a hobbyhorse, is being enjoyed by Princess Mary at Buckingham Palace. For his son, the father made a nutcracker army which was the boy's present for his ninth birthday; the boy played with his pretend army constantly. A year later the war started in Europe and in Johnny's neighborhood German people began to disappear as war sentiments began to grow. Johnny's father was soon gone as well, and to make matters even more difficult, Johnny was sent by his frightened mother to live with his aunt in a small town outside of London. There in the little town of Cliffe, Johnny reluctantly attends school during the day and plays with his soldiers and awaits his father's letters in the evening. In each letter is a new soldier, carved by his father as he waits between attacks and mortar shells. Somehow, in a mysterious way, the soldiers with which Johnny plays so fiercely in the mud in the garden of his aunt's home become linked to his father's letters in a prophetic way.
Iain Lawrence tells us an his Acknowledgments that he had begun this story as a Christmas story, but that it had grown into much more. In the powerful final chapter, Johnny's father writes about the truce between German soldiers in their trenches and English tommies in their trenches made their own truce by singing Silent Night on Christmas Eve in 1914. In the Author's Note at the end of the book, Mr. Lawrence gives the factual details that he has woven so skillfully in his book. After reading the book, any reader will have a better picture of what ordinary people felt and did in this war that was supposed to be over by Christmas (but lasted for four more years) and left so many wounded hearts and bodies on both sides of the English Channel.
--Sarah Reaves White
Lord of the Nutcracker Men
is available for purchase on
Amazon.com
Note: We may receive a commission from sales made through product links in this article.
This review was published in the Dec. - Jan., 2002 of The Internet Writing Journal.
Copyright © Writers Write, Inc. All Rights Reserved.