Lizzy's Do's and Don'ts
by Jessica Harper, Illustrations by Lindsay Harper duPont
HarperCollins, March, 2002.
Picture Book, 40 pages.
ISBN: 0066238609
Ages 4 - 8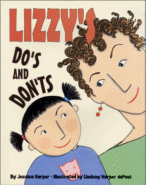 Told from the child's point of view,
Lizzy's Do's and Don'ts
is a book that should be shared, especially when frustration levels begin to rise and things become generally negative. A collaboration of two sisters, one a writer and the other an illustrator, and both of them mothers of young daughters, Lizzy's Do's and Don'ts is just the right book to be shared to restore the equilibrium to a very important relationship.
Lizzy gets to tell her side of the conflict first, and all children will relate to her point of view. Grownups are so hard to please, and as soon as you get one thing right, something else is wrong. Lizzy admonishes her mother with a list of don'ts that will probably surprise the adult listener with its thoroughness. (Apparently, children really do listen.) After Lizzy recounts all of the things she is told not to do, she gets a turn to tell her mother what not to do. Parents will especially notice how much Lizzy resents having a parent chat on the telephone or force her to wear a hated dress. All of the lists are written in rhymed couplets, a form that always appeals to children.
After listing all of the "don'ts", Lizzy and her mother think a while and then come up with some do's. Lizzy gives her list first and then it is followed by her Mother's list. Some of the do's are very positive for a young girl. " Do climb a tree as high as you dare," is followed by "Do tell me when life seems unfair." All of this is pulled together with the underlying "Do ask me if I love you. Yes! I do, do, do."
Lizzy' s Do's and Don'ts
is a very positive book to be shared by a mother and daughter. It will refocus emotions to a more positive level, which of course, is the very best kind of personal discipline anyone can have, whether child or adult.
--Sarah Reaves White
Lizzy's Do's and Don'ts
is available for purchase on
Amazon.com
Note: We may receive a commission from sales made through product links in this article.
This review was published in the May, 2002 of The Internet Writing Journal.
Copyright © Writers Write, Inc. All Rights Reserved.