Industrial Magic
by Kelley Armstrong
Bantam Spectra, October, 2005.
paperback, 560 pages.
ISBN: 0553587072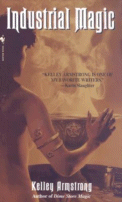 Paige Winterbourne is still finding her path as a witch on her own in this excellent sequel to
Dime Store Magic
. After a move to the West Coast, Paige isn't having much luck convincing the yuppie witches she meets to form a new coven. And she's still getting used to her relationship with Lucas Cortez, the crusading son of the head of the most powerful Cabal in the U.S. But like Michael Corleone, Lucas wants nothing to do with the family business of the Cabals. So when Lucas' father asks Paige and Lucas to solve a series of murders of Cabal employees' children, Paige is reluctant to take the case. But, when one of the young victims turns out to be a witch, Paige relents. She and Lucas head to Miami to find the murderer, with the help of a flamboyant celebrated tv psychic, Elena Michaels (the female werewolf from
Bitten
), a ghostly apparition and a caustic, menopausal vampire.
Kelley Armstrong is clearly a rising star whose career is about to take off. Her Women of the Otherworld Series, which began with Elena Michaels' story in
Bitten
, is suspenseful, funny and very entertaining.
Industrial Magic
focuses on the hidden world of witches and their lifelong enemies, the male sorcerers. The Cabals -- think the Mafia peopled by supernatural beings -- take center stage in this book. As always, Ms. Armstrong's clever sense of humor, fascinating characters and vivid action sequences make this an absorbing read.
Claire E. White
Industrial Magic
is available for purchase on
Amazon.com
Note: We may receive a commission from sales made through product links in this article.
This review was published in the January-February, 2005 of The Internet Writing Journal.
Copyright © Writers Write, Inc. All Rights Reserved.