The Complete Idiot's Guide to Creative Writing
by Laurie E. Rozakis, Ph.D.
Alpha Books, January-February, 2005.
Trade paperback, 368 pages.
ISBN: 1592572065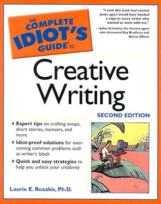 Many people want to write a manuscript, but the idea of exactly what to write and how to get started can be overwhelming for beginning writing.
The Complete Idiot's Guide to Creative Writing
was written with novices in mind and it provides solid instruction from the ground up. The book instructs beginners about characterization, craft and inspiration and teaches them how to write short stories, nonfiction, novels, articles, plays and poetry. Advice is also given on topics such as rewriting, writer's block and learning how to get published or self-published. A practical approach is taken here: there are helpful exercises and charts, including a character worksheet, plot diagram and story treatment worksheet. Laurie E. Rozakis' easy, flowing style and practical advice on all matters written--from agents to editing--makes this book a great starter for writers looking to write their first manuscript.
The Complete Idiot's Guide to Creative Writing
is available for purchase on
Amazon.com
Note: We may receive a commission from sales made through product links in this article.
This review was published in the January-February, 2005 of The Internet Writing Journal.
Copyright © Writers Write, Inc. All Rights Reserved.