The Complete Idiot's Guide to Business Letters and Memos (2nd ed, book and CD-Rom)
by Tom Gorman
Alpha, November, 2005.
Trade paperback, 324 pages.
ISBN: 1592574246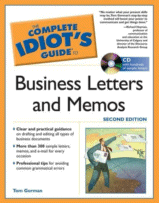 One of the most surprising things that many supervisors discover is that their new employees can't write a simple business memo or letter. There are certain rules for business writing, and knowing what they are can put you ahead of your competition. Tom Gorman tackles the subject of business communications in this Second Edition of
The Complete Idiot's Guide to Business Letters and Memos
. He begins with his three step process for writing: decide what to say, say it and then edit what you said. He then gives detailed instructions and rules for creating business letters, memos, emails, query letters, collection letters, thank you notes, letters of recommendation and and other typical business missives.
Gorman addresses common grammar errors, formality issues and even what to do when you're writing to a business associate who uses British English instead of American English. He also adds "Signposts along the way," which are sidebars about pitfalls, Tricks of the Trade and helpful "FYI" nuggets of information. A CD-ROM is also included, which has many samples of good business writing. This is an absolute must for anyone who's just graduated from college, just starting a new job or who is looking to improve his writing skills in the workplace.
The Complete Idiot's Guide to Business Letters and Memos (2nd ed, book and CD-Rom)
is available for purchase on
Amazon.com
Note: We may receive a commission from sales made through product links in this article.
This review was published in the February, 2006 of The Internet Writing Journal.
Copyright © Writers Write, Inc. All Rights Reserved.