Going Overboard
by Christina Skye
Dell, April, 2001.
Paperback, 344 pages.
ISBN: 0440235758
Subgenre: Contemporary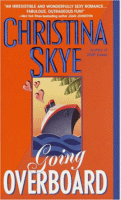 Photographer Carolina "Carly" Sullivan's latest assignment is rapidly falling apart. Stuck on a cruise ship in the middle of the Caribbean, Carolina needs a new male model for her campaign for the cruise line, after the original model turns up woefully out of shape. Then Carly spots Ford McKay, a handsome rancher from Wyoming (or so he says) and determines that he is the best replacement for the ads. But Ford is not merely a rancher; he's a Navy SEAL assigned to protect Carly and her friend, Daphne, who is the daughter of the governor of the island of Santa Marina. When the photography session is interrupted by gunfire, it's the mysterious Ford who saves Carly and Daphne. Now Ford is determined to stick like glue to Carly until the SEALs find out what is going on in Santa Marina, and who it is that seems to want Carly and Daphne dead. Never one to mix business with pleasure, McKay finds that he's about to break that personal rule in a big way -- when he mixes it up with a stubborn red-haired photographer who is convinced that she doesn't need protection.
Carly Sullivan is a heroine that romance readers can relate to. On her own for a long time, she has immersed herself in her work with no time for romantic entanglements. She is stubborn and funny, but kind as well. Her interactions with the dashing, but somewhat hard-headed McKay are truly a delight to read. This lighthearted and upbeat suspense thriller with a solid and passionate romance at its core is another winner from Christina Skye.
Going Overboard
is available for purchase on
Amazon.com
Note: We may receive a commission from sales made through product links in this article.
This review was published in the March, 2001 of The Internet Writing Journal.
Copyright © Writers Write, Inc. All Rights Reserved.