Frank O. Gehry: Outside In
by Jan Greenberg and Sandra Jordan
DK Ink, September, 2000.
Hardcover, 48 pages.
ISBN: 0789426773
Ages 9 and up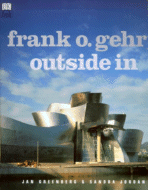 "Life is chaotic, dangerous and inspiring. Buildings should reflect it." So says Frank O. Gehry, the renowned and controversial architect who created the Guggenheim Museum in Bilbao, Spain, and Paul Allen's Experience Music Project in Seattle. Jan Greenberg and Sandra Jordan have created a compelling portrayal of the architect who is now being labeled a genius by many. Gehry was an athletic child, whose grandfather was a Talmudic scholar. The anti-Semitism that Gehry endured during his Canadian childhood was to have a profound influence on his life, as was the happy influence of the happy times he and his beloved grandmother spent building mock cities with scrap wood and metal. When Gehry renovated his first home in Santa Monica, California, his neighbors hated the edifice so much that they got up petitions to tear it down. But now it's a draw, as busloads of tourists come by to ogle the house and take photos.
With striking photographs and drawings of Gehry's designs, and commentary from the architect himself, Greenberg and Jordan provide an interesting inside look at one of the world's most famous architects. Especially interesting is the behind the scenes look at how the Guggenheim Museum in Bilbao was created out of titanium, using the three-dimensional imaging computer program developed by the French aerospace industry to design fighter planes, CATIA. Critics tend to either love or hate Gehry's designs; few people feel lukewarm about his work. But regardless of your opinion of his architectural style, there is no question that his work is influential, and understanding the man himself is a key to understanding his art.
--Claire E. White
Frank O. Gehry: Outside In
is available for purchase on
Amazon.com
Note: We may receive a commission from sales made through product links in this article.
This review was published in the February, 2001 of The Internet Writing Journal.
Copyright © Writers Write, Inc. All Rights Reserved.