Flashpoint
by Suzanne Brockmann
Ballantine, March, 2004.
Hardcover, 380 pages.
ISBN: 0345462327
Subgenre: Romantic suspense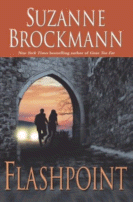 Suzanne Brockmann
continues her popular Navy Seals series with this exciting international thriller. Tess Bailey is a computer genius working for the Agency who longs to go out into the field. She gets her first taste of fieldwork when she goes undercover at a topless bar to help agent Diego "Jimmie" Nash save the life of his partner, Lawrence Decker. Tess and Jimmie have an ill-advised fling, but Jimmie takes off and quits the Agency. When Tess' promotion to field operative doesn't come through, she also quits the Agency and joins up with the covert consulting firm, Troubleshooters, Inc. Her first assignment teams her with Deck and Jimmie once again, as they head to earthquake-ravaged Kazbekistan on a dangerous mission to retrieve the laptop computer of a warlord Padsha Bashir who has al-Qaeda ties.
Suzanne Brockmann turns up the heat in her best book yet. She takes readers inside the world of a country which has been taken over by extremist Islam where women have no rights at all. Forced to abide by curfews, to be covered at all times in the restrictive burkas and not allowed to practice their professions under the new regime, the women are virtual slaves. There are enough different types of romance books written to appeal to all kinds of readers. Suzanne Brockmann's books appeal to readers who love exciting action, lots of passion and no silliness, sugar-coating or frilliness. Tess is a modern woman with a modern woman's contradictions: she can hack into secure computer systems, subdue a terrorist and yet still feel vulnerable in a relationship. This is a fast-paced, funny and emotionally rich story that paves the way for more in this excellent series.
Flashpoint
is available for purchase on
Amazon.com
Note: We may receive a commission from sales made through product links in this article.
This review was published in the March-April, 2004 of The Internet Writing Journal.
Copyright © Writers Write, Inc. All Rights Reserved.