FDR's Alphabet Soup: New Deal America 1932-1939
by Tonya Bolden
Knopf Books for Young Readers, 2020-1-12.
Hardcover, 144 pages.
ISBN: 037585214X
Ages 12 and up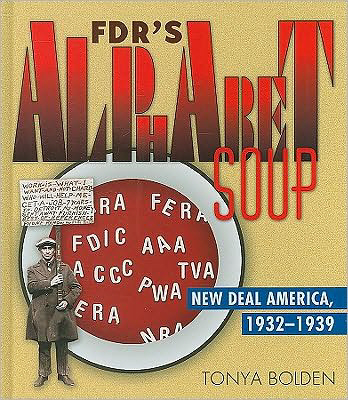 One wishes that all history books could be written like Tonya Bolden's new book, FDR's Alphabet Soup. What has always been difficult to read or explain in this book becomes interesting, understandable, and thought provoking. The history of economics usually makes for dull reading, but in the hands of this author, the reader in plunged into that frightening and difficult time.
Using illustrations, quotations, and factual explanations in the margins, the author conducts the reader through the whirlwind programs of FDR's New Deal. Quotations in the margins allow the reader to see how the actions in Washington were affecting ordinary citizens, pundits, and the opposition. At the end of the book is a very helpful glossary and more notes. This is a work put together with high school social studies in mind, but the adults will find it equally instructive and disturbing. Parallels to today's events are unavoidable.
Alphabet Soup will give insight into the problems American families are facing today. Why are so many houses in our neighborhood for sale? Why have so many kids' parents lost their jobs? These are the questions that no doubt are being discussed in history classes in high schools all through the nation. Alphabet Soup should bring out some lively classroom insights as bewildered teens encounter the fact that this has happened before in a different time. Bolden states her hope that this book will help young people see history as an important part of their education.
In the last chapter Bolden offers no smug conclusions. The facts have been well displayed, so readers will be left to draw conclusions and find a solution to believe in -- if there is one.
--Sarah Reaves White
FDR's Alphabet Soup: New Deal America 1932-1939
is available for purchase on
Amazon.com
Note: We may receive a commission from sales made through product links in this article.