Essentially Lilly: A Guide to Colorful Entertaining
by Lilly Pulitzer
HarperCollins, April, 2004.
Hardcover, 192 pages.
ISBN: 0060577495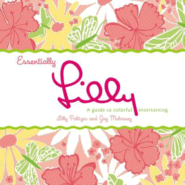 Those fabulous and fun hot pink and lime green print dresses and skirts always make one think "Lilly!" Now Lilly Pulitzer herself decides to tell her story -- and what a story it is. Not content to be the perfect little lady from Miss Porter's, Lillian Lee McKim Pulitzer Rousseau ditched the deb scene and headed off to Kentucky to work for the Frontier Nurses Service. In the 1950s, she eloped and moved to Palm Beach, Florida. Known for her marvelous parties, she eventually longed for more from her life. When she designed a bright patterned shift dress that Jackie Kennedy wore, a legend was born. Throughout the building of a fashion empire, another husband, children and the retreat then revival of her brand, Lilly never stopped loving to entertain, to work and to celebrate the joys of friends and family.
Lilly
is really a lifestyle guide, set in Lilly Pulitzer's own backyard. Beautifully photographed in bright colors that really pop, the book is organized by types of events: movie nights, teas, bridesmaid's showers, evening pool parties and so on. Recipes are given, along with detailed tips for entertaining -- she even suggests her favorite movies for movie night. Jay Mulvaney does a superb job of presenting the life philosophy that is the essential Lilly. We learn a lot about Lilly's early life and if the focus here is mostly on the positive side of life -- pool parties with family and tea with close girlfriends -- that's all for the better. With all the depressing headlines in the newspapers today, it is a wonderful thing to flip through pictures from Lilly's life and think of happy times. This marvelously fun and gorgeous book would make the perfect hostess gift.
Essentially Lilly: A Guide to Colorful Entertaining
is available for purchase on
Amazon.com
Note: We may receive a commission from sales made through product links in this article.
This review was published in the July-August, 2004 of The Internet Writing Journal.
Copyright © Writers Write, Inc. All Rights Reserved.