Dorling Kindersley's Children's Atlas
DK, September, 2000.
Hardcover, 160 pages.
ISBN: 0789458454
Ages 9-12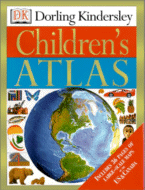 With all of the recent geopolitical upheaval of the last twenty years, the necessity of a good, detailed, accurate atlas cannot be overstated. Now DK has revised and updated its children's atlas, with fantastic results. The large atlas contains more than 50 innovative three-dimensional computer-generated maps, informative text, and over 1,000 photographs, illustrations, and diagrams. The maps are organized by continent. Each region is depicted in a detailed and informative double-page layout which demonstrates the geography of the continent. Within the continent, the region is divided by country or group of countries. There is also a glossary and index with more information about each country. Each double page spread features interesting facts and beautiful photographs about the region under study. Although the book is called a children's atlas, it would still make a wonderful reference book for an adult, as well. This is a must-have for the family library, especially if you have school-age children.
Dorling Kindersley's Children's Atlas
is available for purchase on
Amazon.com
Note: We may receive a commission from sales made through product links in this article.
This review was published in the March, 2001 of The Internet Writing Journal.
Copyright © Writers Write, Inc. All Rights Reserved.