Does a Kangaroo Have a Mother, Too?
by Eric Carle
Harper Festival, March, 2002.
Board Book, 28 pages.
ISBN: 0694014567
Ages Baby - Preschool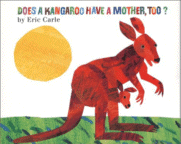 Bestselling author/illustrator Eric Carle is back with another wonderful board book which is sure to become a family favorite. "Does a Kangaroo have a mother, too?" asks the narrator. "Yes, a kangaroo has a mother. Just like me and you," is the reply. The narrator then asks if a lion has a mother, and asks the same question for a giraffe, a penguin, a swan, a fox, a dolphin, a sheep, a bear, an elephant and a monkey. For each animal, Mr. Carle has created a fabulous color collage of the animal mother and baby. The illustrations are full of life: the bears scamper, the kangaroos hop, and the baby lions gambol around their mother's feet. The repetitive nature of the questions and answers will appeal to toddlers, as will the colorful and vivid illustrations. An additional treat is the glossary in the back, which teaches us the names of all the members of animal families; for example, a group of foxes is called a skulk, and a group of giraffes is referred to as a tower. This would be an excellent addition to any baby's growing library.
Does a Kangaroo Have a Mother, Too?
is available for purchase on
Amazon.com
Note: We may receive a commission from sales made through product links in this article.
This review was published in the April, 2002 of The Internet Writing Journal.
Copyright © Writers Write, Inc. All Rights Reserved.