Digital Fortress
by Dan Brown
St. Martin's Press, Feb., 1998..
paperback, 371 pages.
ISBN: 0312995423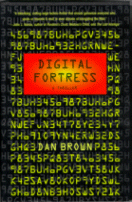 The ultra-secret NSA (National Security Agency) is responsible for monitoring and protecting the U.S. communications. Its secret weapon is the multi-billion dollar supercomputer called TRANSLTR which can instantly decode any encrypted message in cyberspace, allowing the NSA to stop numerous terrorist threats, some of them nuclear. TRANSLTR can decode almost instantly any message sent and intercepted anywhere in the world over the Internet -- until now. When TRANSLTR meets a code it cannot break, the agency calls in its top cryptographer Susan Fletcher, a beautiful and brilliant mathematical genius, and her fiance, David Becker, a professor and foreign language specialist who has assisted the NSA before. While Becker is dispatched to Spain to retrieve the password to the new code which disappeared after Tankado's murder, Susan starts to dig into the origins of the mysterious code known as Digital Fortress, finding layers upon layers of shocking secrets, lies and betrayals. Programmed by computer genius Ensei Tankado, Digital Fortress could literally topple the U.S. government and open the world to terrorist annihilation. Tankado is blackmailing the U.S. Government from his grave and the race is on to find Tankado and break the code before the U.S. government's entire security system is irretrievably breached giving terrorists access to everything including nuclear missile launch codes.
Digital Fortress
is an exciting and thought-provoking debut from author
Dan Brown
. With nonstop action, intrigue and a fascinating plot
Digital Fortress
is an example of the techno-thriller at its very best. But what makes
Digital Fortress
stand out from the crowd are its other elements: a real love story and an examination of the struggles between right and wrong and protection of the public versus the preservation of that same public's privacy. The issues raised in
Digital Fortress
concerning privacy of communications and the very real threat of terrorism will have readers thinking about
Digital Fortress
long after they have put the book down. Brown does an excellent job at presenting technological wizardry and cutting edge intelligence information in such a way so as to please techno lovers and yet make the complex subject of encryption interesting and easy to understand. A must read for lovers of intrigue, thrillers and for anyone who loves an exciting story with a complex, layered plot and intriguing characters.
--Claire E. White
Digital Fortress
is available for purchase on
Amazon.com
Note: We may receive a commission from sales made through product links in this article.
This review was published in the February, 1998 of The Internet Writing Journal.
Copyright © Writers Write, Inc. All Rights Reserved.