Dark Alchemy
by Sarah Lovett
Simon and Schuster, March, 2003.
Hardcover, 304 pages.
ISBN: 0684855992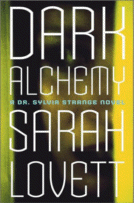 Forensic psychologist Dr. Sylvia Strange is approached by FBI counter-terrorism expert Edmond Sweetheart to assist in the case of a suspected woman poisoner. The subject of the investigation is Dr. Christine Palmer, the world's foremost expert in the area of neurotoxins, which are deadly bioweapons. Dr. Palmer works for the Department of Defense on a top secret research project. Although there is no evidence against her, Dr. Palmer's father, fiance and colleague have all died mysterious deaths. Dr. Palmer is beautiful, brilliant and incredibly egotistical, but it is far from clear if she is a poisoner. Silvia puts her wedding plans on hold in order to create a psychological profile of the killer, which causes a major strain between her and her fiance. As Sylvia gets more involved with the case, it becomes clear that she is up against a formidable adversary -- and that her own life is in considerable danger.
Dr. Sylvia Strange has her work cut out for her in her latest outing. Dr. Christine Palmer is one of the most interesting characters to come along in a long time. Beautiful, brilliant and icily cold, she leaves the reader wondering to the very end whether she's a poisoner or just a pawn in someone else's game. Ms. Lovett is an expert at creating a disturbing atmosphere of suspense, and the background of the world of neurotoxins -- where scientists work long hours in order to perfect poisons to kill the maximum number of people -- is as chilling as it is timely. Dr. Sylvia Strange is a compelling and complex character, whose personal life suffers at times because of her gruesome job. This is an emotionally rich series with so much spine-tingling suspense that it will keep you reading well into the night.
--Claire E. White
Dark Alchemy
is available for purchase on
Amazon.com
Note: We may receive a commission from sales made through product links in this article.
This review was published in the April-May, 2003 of The Internet Writing Journal.
Copyright © Writers Write, Inc. All Rights Reserved.