Danger Zone
by Shirley Palmer
Mira, October, 2002.
Hardcover, 304 pages.
ISBN: 1551669439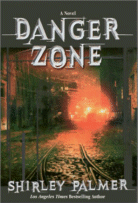 Maggie Cady seems to have it all: the perfect house, the perfect husband, ex-cop Sam, and the perfect son, four year-old Jimmy. One Sunday morning, Maggie returns home from church to find that her husband has been shot at and her little boy has been abducted. The police and Sam immediately begin to investigate; then they discover that Maggie has disappeared in the confusion. As Sam goes through Maggie's things to find out where she went, he finds tantalizing clues that tell him that Maggie has some very big secrets in her past. Nearly overcome with grief and confusion, Sam is nevertheless determined to track Maggie down to get some answers. Maggie knows exactly who has kidnapped her son and heads to New York to get him back. But Sam is hot on her trail -- a trail filled with the Irish mob, the Italian Mafia, deep family secrets -- and lots of violence.
Shirley Palmer
examines the darker side of family ties in this exciting new thriller. Maggie Cady is an appealing character who must face the terrifying past she thought that she had left behind forever, in order to save the son she loves so desperately. Her husband Sam is a well-drawn character, who definitely has mixed feelings about the wife he thought he knew so well. The action scenes are taut and well-choreographed, and the pacing is brisk. The Mafia backdrop is fascinating, and the romance between Sam and Maggie rings true. This is an excellent and very entertaining thriller that will have you reading late into the night.
Danger Zone
is available for purchase on
Amazon.com
Note: We may receive a commission from sales made through product links in this article.
This review was published in the October - November, 2002 of The Internet Writing Journal.
Copyright © Writers Write, Inc. All Rights Reserved.