Counterfeit Kings
by Adam Connell
Phobos, May, 2004.
Trade paperback, 382 pages.
ISBN: 0972002642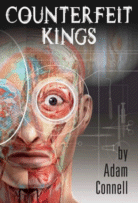 Life is not easy for Horrocks and his pregnant wife. Once an elite bodyguard for the Io colony's leader, John Kingston, aka the "King", he now works in a processing station that harvests power from the moon's volcanic eruptions using a secret process known only to the King. Now the king is missing after a failed assassination attempt. If he's not found quickly, a succession war will be set off which could destroy the colony. The Queen asks Horrocks to find and rescue the King, and Horrocks reluctantly agrees. Now he must contend with the Ringers (bodyguards who have been surgically altered to look exactly like the King), the King's fractious heirs, and a vengeful enemy of Horrocks who is looking to settle an old score.
Adam Connell creates a realistic future in this darkly humorous and gritty novel. This is not space opera, nor is it sanitized, germ-free SF, with pristine glass edifices, state of the art technology and abundant clean food. This future is more like the urban mean streets: the characters are all damaged in some way and their environment is precarious. The technology is mostly held together with spit and bailing wire, and the hygiene on the spaceships leaves quite a bit to be desired. Against this backdrop, Mr. Connell delivers us a group of multi-layered and vivid characters, but no real heroes or villains. Horrocks struggles to do the right thing and protect his family, but he begins to question the nature of the government of the colony and the system under which he lives. The science is well integrated into the plot and Connell excels at writing both action scenes and the more intimate scenes between the characters. Despite the book's cover -- which seems to indicate that a horror novel lurks inside --
Counterfeit Kings
will appeal to both SF fans and to those who enjoy a gritty detective novel. Adam Connell is clearly an author to watch.
--Claire E. White
Counterfeit Kings
is available for purchase on
Amazon.com
Note: We may receive a commission from sales made through product links in this article.
This review was published in the July-August, 2004 of The Internet Writing Journal.
Copyright © Writers Write, Inc. All Rights Reserved.