Catering to Nobody
by Diane Mott Davidson
Bantam, March, 2002.
Paperback, 301 pages.
ISBN: 0553584707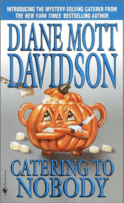 Bestselling mystery author Diane Mott Davidson has become the gold standard for culinary mysteries, with her eleventh Goldy Bear mystery slated for release this June. Bantam recently bought the paperback rights to the backlist, and has reissued the first book in the series,
Catering to Nobody
. In the series' debut, we meet caterer, divorcee and single mom Goldy Bear Korman from Colorado. She's left her abusive wealthy husband (from henceforth known as The Jerk) and is trying to make it as Aspen Meadow's first caterer. But her catering business gets shut down when her father in law, Dr. Fritz Korman, is poisoned at a wake for her son's teacher that Goldy is catering. The teacher supposedly committed suicide, but certain things about the case just don't add up. Events get more complicated from there on, as Goldy tries find a murderer, get her catering business opened again, and avoid being the next victim of a ruthless killer.
The first Goldy mystery is a real gem. With likeable and believable characters, snappy dialogue and delicious recipes sprinkled throughout, it's easy to see why this series became a hit. It's also fun to see a single Goldy flirting with the handsome cop Tom Schulz. This first entry in the delectable series is a must-have for Goldy fans.
Catering to Nobody
is available for purchase on
Amazon.com
Note: We may receive a commission from sales made through product links in this article.
This review was published in the April, 2002 of The Internet Writing Journal.
Copyright © Writers Write, Inc. All Rights Reserved.