The Big Golden Book of Dinosaurs
by Dr. Robert T. Bakker, Illustrations by Luis V. Rey
Big Golden Books, September 24, 2013.
Picture Book, 64 pages.
ISBN: 0375859586
Ages 3-7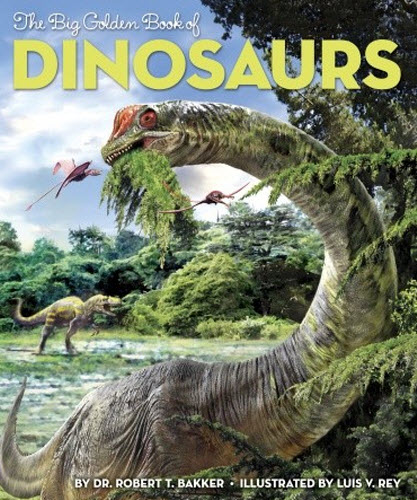 The Big Golden Book of Dinosaurs is a wonderful children's book describing many different dinosaurs. It is written by paleontologist Dr. Robert T. Bakker and illustrated by Luis V. Rey. The first and last pages contain a map of the world that has images of dinosaurs showing which continents they could be found on. Dinosaurs thrived on our planet for over 150 million years. The book describes the different evolutionary periods and the creatures and dinosaurs that lived during them, including the Devonian, Permian, Carboniferous, Late Triassic and Late Jurassic periods. Rey's stunning drawings bring the dinosaurs and their environments to life on the page.
The book also has a section on fluffy dinosaurs, which explains some of the new research on feathered dinosaurs. Other interesting sections of the book describe how dinosaurs survived in the snow and how the duckbill dinosaurs sang to attract mates. There is also an interesting story about Mary Anning, a twelve-year-old girl from England who excavated her first dinosaur skeleton in 1811.
The Big Golden Book of Dinosaurs describes dinosaurs from the well-known Tyrannosaurs Rex and Triceratops to the small lesser-known Foxraptor. The interesting and entertaining narrative combined with amazing illustrations make this a great book for any child curious about dinosaurs.
-- Greg Knollenberg
The Big Golden Book of Dinosaurs
is available for purchase on
Amazon.com
Note: We may receive a commission from sales made through product links in this article.