Before There Was Mozart, The Story of Joseph Boulogne, Chevalier de Saint-George
by Lesa Cline-Ransome, Illustrations by James E. Ransome
Schwartz & Wade, 2011-1-25.
Hardcover, 40 pages.
ISBN: 0375836004
Ages 4-8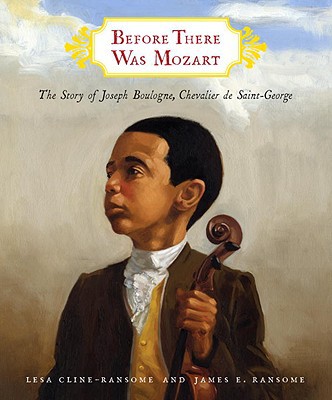 Husband and wife team Lesa Cline-Ransome and James E. Ransome have previously collaborated on the stories of world renowned athletes Satchell Page and Pele, but this time they turned to an example of great musical talent: Joseph Boulogne.
What makes this biography for young people especially important is that this young musician excelled in music at the same time and in the same places as Mozart. Although as far as we know, they never knew each other , music audiences of the time could have enjoyed the musicianship of both.
The dramatic illustrations of James Ransome draw the reader into the story on an emotional level. The scenes feature large drawings of each important event in the story, which add a strong and happy background to the narrative. It could even be said that the style of the illustrations references the lightness of the music of the eighteenth century.
Before There Was Mozart is a beautiful book that will broaden the musical knowledge of students. It definitely will show students that music is color blind; great musical talent can manifest itself anywhere in the world and in anyone -- regardless of their ethnicity. Musical genius is strewn all over the world in all populations and in all income levels. It just appears like a wildflower, and when it blooms, it thrills us all.
-- Sarah Reaves White
Before There Was Mozart, The Story of Joseph Boulogne, Chevalier de Saint-George
is available for purchase on
Amazon.com
Note: We may receive a commission from sales made through product links in this article.