The Art & Science of Web Design
by Jeffrey Veen
Que, December, 2000.
Trade Paperback, 260 pages.
ISBN: 0789723700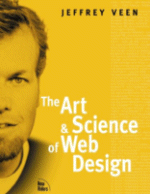 This reference does not supply loads of sample code or HTML tricks; instead it conveys valid and useful information about practical web design and style, including what is working online and why. Readers are also provided with emerging web publishing conventions that work, and explanations and supporting examples of why these conventions are useful. The book offers insight into the Web's history, interface conventions, search and navigation structure, browser compatibility, website loading speed, web advertising and database-driven websites.
Author Jeffrey Veen has been working in and writing about the web industry before web design even emerged as a known profession. For six years he served as the Executive Interface Director for Wired Digital and Lycos Inc., managing the look and feel of
HotWired
, the HotBot search engine,
Wired News
and others. He has been active with the World Wide Web Consortium and writes a column about web design for
Webmonkey
. This book, which combines concepts of web usability, web design style and Veen's own expert analysis and opinions, should be required reading in any web developing or marketing course. Although the book is not intended for those looking for how-to coding examples and plug-in code, true Internet professionals -- including web developers and marketers -- can learn a great deal from this book. Highly recommended.
The Art & Science of Web Design
is available for purchase on
Amazon.com
Note: We may receive a commission from sales made through product links in this article.
This review was published in the February, 2001 of The Internet Writing Journal.
Copyright © Writers Write, Inc. All Rights Reserved.