Antarctica's Frozen Chosen
by Hazel Edwards
Lothian Books, July, 2003.
Trade paperback, 176 pages.
ISBN: 0734405197
Ages Young Adult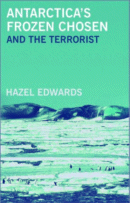 Kyle is ecstatic when he gets the news that he has secured a job at the Antarctic research station to study elephant seals, whose decreasing numbers are worrying scientists. Kyle boards the Polar Bird re-supply ship for his journey to the Antarctic. Emailed daily by his Spanish eco-activist girlfriend, Jade, Kyle has to scramble to learn all the new procedures for living in subzero temperatures. He also has to learn all the lingo that Antarctic researchers use, such as boffins (scientists), being slotted (being trapped in an ice crevasse, not a good thing), and RTA (Returned to Australia). Jade spends a lot of time online with The Red Herrings, a protest group, but doesn't realize that eco-terrorists are using the online group for their own purposes. When a genetic experiment on rats threatens to cross over to humans with devastating effects, the research station is quarantined. But some members of the expedition threaten to mutiny -- and Kyle is caught in the middle.
Bestselling Australian children's author Hazel Edwards was the writer on ice at Antarctica's Casey Station, and she brings her experiences to life in this crisply written eco-thriller. From the crack of the ice as the re-supply ship hits the side of an iceberg to the howl of the subarctic wind, the author makes you feel as if you were on a ship headed to the south pole, seeing penguins and icy water (which can kill an unprotected human in just a few minutes). The themes of eco-terrorism and genetic manipulation are explored in an interesting way which encourages readers to think about the issues raised: no easy answers are provided. The action is fast-paced and the characters are interesting, making for an exciting and very entertaining read.
Antarctica's Frozen Chosen
is available for purchase on
Amazon.com
Note: We may receive a commission from sales made through product links in this article.
This review was published in the September-October, 2003 of The Internet Writing Journal.
Copyright © Writers Write, Inc. All Rights Reserved.