An Edible Alphabet: 26 Reasons to Love the Farm
by Carol Watterson, Illustrations by Michela Sorentino
Tricycle Press, July 26, 2011.
Picture Book, 48 pages.
ISBN: 1582464219
Ages 4-8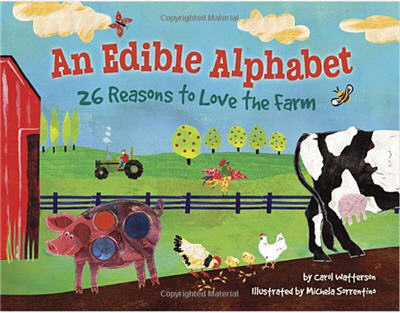 The combination of learning with pleasure is always the best way to teach the very young. With this in mind, Carol Waterson has crammed a great deal of information on foods and farming into a book that helps young children learn the sounds made by the letters of the alphabet.
Not only is food brought into the lesson, but the power of alliteration is introduced to young ears. The old "Z is for Zebra" is replaced by "Zoom Zoom Zucchini," and "Happy Herefords Hiccuping Home." We have all experienced how alliteration can work like glue on the memory.
An Edible Alphabet is an alphabet to be shared with either a single child or an entire class. The many facts that are woven into the text of each page are invaluable. In a time when most children are living in urban environments, the farm and all the knowledge that goes with supplying food to the cities is fascinating to young children. An Edible Alphabet links knowledge and reading preparation in an enjoyable way.
-- Sarah Reaves White
An Edible Alphabet: 26 Reasons to Love the Farm
is available for purchase on
Amazon.com
Note: We may receive a commission from sales made through product links in this article.