Age of Bronze: Sacrifice
by Eric Shanower
Hungry Tiger Press, October, 2004.
Graphic Novel, 223 pages.
ISBN: 1582403600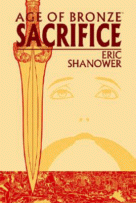 Age of Bronze: Sacrifice
is a superb choice for lovers of literature to add to their libraries this year. Not only is it a thoroughly enjoyable and enlightening trip through those ancient stories and themes that have influenced Western literature, it is a very useful tool for keeping the monumental epics of ancient Greece understandable and easy to comprehend. Eric Shanower 's project of using the graphic novel form to explain not only the stories, but the background of ancient times based on extensive research, is truly compelling.
Eric Shanower, a distinguished graphic artist who lives and works in San Francisco, was inspired in 1991 to tackle turning the Trojan War into a graphic novel. He has taken on a monumental task, and has actually done a great service for those of us who are sadly unable to read the original texts in Greek and enjoy them with the fluency with which we read any novel written in today's English. Being a species that depends most heavily on vision for our knowledge of the world, we all welcome this series for helping us keep everything straight. There have been so many mediocre movies that have been made of this time period. A graphic novel form is actually the very best way to revisit those ancient stories that have such a hold on us, because of the universality of the themes.
For those readers who do not usually visit the graphic novel form for literary entertainment,
Sacrifice
will be a new and thought-provoking mental venue. Shanower does not shy away from some of the more controversial aspects of Bronze Age Greek culture, so this work is not the way to get your eleven year-old nephew interested in classical literature -- although it might be just the thing for an older teenager. But adult readers will find that Shanower's skill at story, emotion and action combine create a unique and informative new approach to this time period.
--Sarah Reaves White
Age of Bronze: Sacrifice
is available for purchase on
Amazon.com
Note: We may receive a commission from sales made through product links in this article.
This review was published in the November-December, 2004 of The Internet Writing Journal.
Copyright © Writers Write, Inc. All Rights Reserved.