Agatha Raisin and the Day the Floods Came
by M.C. Beaton
Minotaur, July, 2002.
Hardcover, 213 pages.
ISBN: 0312207670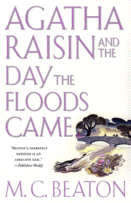 When longtime love and sometime husband James Lacey heads off to be a monk in France, Agatha Raisin is once again left all on her own. Her feckless friend Sir Charles Fraith has also deserted her to marry unexpectedly. So Agatha books herself on a vacation to a remote island, which she finds surprisingly pleasant. When she returns home, she becomes embroiled in the death of a young woman who is found floating in the river, while wearing a wedding gown and holding a bouquet. The police rule the death a suicide, but Agatha thinks it was murder. With the help of her new neighbor, the attractive mystery novelist John Armitage, Agatha sets out to solve the murder.
This is the best Agatha Raisin book in years. With the irritating James finally out of the picture, and with Agatha finally showing a little self-confidence without a man, the series has been utterly revitalized. Agatha is still self-centered, waspish and hilariously neurotic, but she now has a toughness and willingness to remake herself which is wonderful to see. The new neighbor, John Armitage, is quite interesting, and the mystery is well-plotted. This series just got a jolt of adrenaline, which should make for wonderful future books.
Agatha Raisin and the Day the Floods Came
is available for purchase on
Amazon.com
Note: We may receive a commission from sales made through product links in this article.
This review was published in the December - January, 2003 of The Internet Writing Journal.
Copyright © Writers Write, Inc. All Rights Reserved.