Agatha Raisin and the Case of the Curious Curate
by M.C. Beaton
St. Martin's Minotaur, March, 2003.
Hardcover, 224 pages.
ISBN: 0312207689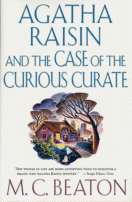 Agatha Raisin, former London PR executive and current resident of the tiny Cotswalds village of Carsely, is bored -- much to the dismay of her friend Mrs. Bloxby, the vicar's wife, who tells Agatha: "I hate it when you get bored... It seems to me that every time you get bored, a murder happens somewhere." And so it does. For it's not long afterwards that the village's gorgeous, young new curate is found murdered -- and Alf Bloxby is the chief suspect. Agatha begins to investigate and finds that the beautiful curate actually had dark secrets in his past -- and quite a few people who might want to kill him.
Agatha Raisin continues to fascinate in this defty-executed village cozy with a twist. Her dreadfully pompous ex-husband James Lacey is mercifully absent from the story and Agatha (in addition to investigating the murder) actually begins to do nice things for other people, such as offering to play chess with an elderly resident of the village. Her single neighbor, author John Armitage, turns out to be a bit of a jerk, but by the end of the story a new single computer programmer has moved to the village -- which should lead to some interesting developments in the next installment of this reliably excellent series.
Agatha Raisin and the Case of the Curious Curate
is available for purchase on
Amazon.com
Note: We may receive a commission from sales made through product links in this article.
This review was published in the September-October, 2003 of The Internet Writing Journal.
Copyright © Writers Write, Inc. All Rights Reserved.