The Promise
by Dee Davis
Dorchester, January, 2002.
Paperback, 194 pages.
ISBN: 0505524759
Subgenre: Time Travel
Ordering information:
Amazon.com
|
Amazon.co.uk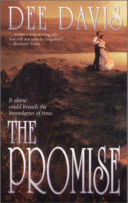 Cara Reynolds' life was shattered on her sixteenth birthday when her parents were killed in a car accident, as they drove to a favorite restaurant for a birthday celebration. Cara herself barely survived the accident. She wouldn't have, if not for Michael Macpherson who finds her in the blizzard and promises to take care of her. But in the morning, Michael is gone. Her family and doctors convince her that he was a hallucination, but Cara cannot forget him. An artist, she captures him and the place where they met, the Promise silver mine in Colorado, in her paintings. When Michael shows up again years later, pursued by an assassin, the pair realize that they are separated in time: he lives in the past and she lives in the present. Bonded somehow by the silver mine where they met and the promises they exchanged, the pair must overcome the restrictions of time itself in order to be together and to change a terrible wrong from the past.
The Promise
is a moving and sweet love story in which the power of love and a promise can change history itself. Time travel romances are tricky things, but Dee Davis is up to the challenge. The story is told in alternating points of view, which are all happening at the same time; this style works quite well. With a well-drawn cast of secondary characters and a vivid sense of place,
The Promise
is a gift for those who love a moving and powerful love story, with a touch of the supernatural.
Reprinted with permission from The Internet Writing Journal®.
Copyright © 1997-2016 by Writers Write, Inc. All Rights Reserved.