Outwitting Writer's Block
by Jenna Glatzer
The Lyons Press, October, 2003.
Paperback, 250 pages.
ISBN: 1592280846
Ordering information:
Amazon.com
|
Amazon.co.uk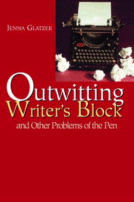 Jenna Glatzer, screenwriter, author and editor/founder of absolutewrite.com, has come to the rescue of blocked creative minds everywhere. In her book,
Outwitting Writer's Block
, Jenna Glatzer offers so many ways to get unstuck that one of them is bound to work for you. She also helps writers determine what is causing their writer's block and other writing difficulties. Along the way Glatzer dispels common myths about writing like "You must isolate yourself to write," "You must outline before you write" and "You must write about what you know." Jenna demonstrates how by using journals, effective time management, relaxation, and removing negative thoughts and self-doubt, writers can move toward and finish their writing goals. Through advice, tips and encouragement Jenna provides enough inspiration and motivation to unstick any writer. If you still can't think of a thing to write after reading this book, perhaps you should consider a career other than writing.
Reprinted with permission from The Internet Writing Journal®.
Copyright © 1997-2016 by Writers Write, Inc. All Rights Reserved.