Dancing (Sesame Street: Elmo's World)
Random House, January, 2001.
Board Book, 12 pages.
ISBN: 0375811788
Ages Baby-Preschool
Ordering information:
Amazon.com
|
Amazon.co.uk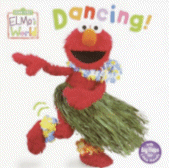 One of Sesame Street's most beloved characters is Elmo. Now Elmo shares the joys of dancing in this oversized board book for the baby - preschool set. Elmo does the Cha-cha, ballet, tap dancing, the limbo, and even the flamingo. The bright white laminated pages are covered with bright photos of Elmo dancing, with colored text, and should hold up well under the grip of sticky little hands. At the end, the book asks. "Are you ready to dance with Elmo?" The tot can then follow along with Elmo as he leaps up, shimmies down and spins all the way around. Babies will enjoy the bright colors, and the familiar face of Elmo as he helps introduce the concepts of dance and movement.
Reprinted with permission from The Internet Writing Journal®.
Copyright © 1997-2016 by Writers Write, Inc. All Rights Reserved.