Wimpy Kid 8 Set for Global November 2013 Release
Posted on March 29, 2013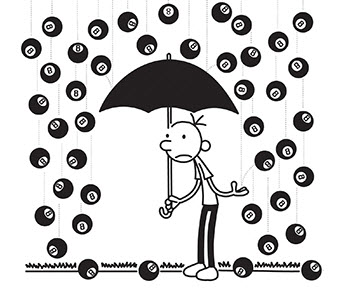 Amulet Books, an imprint of Abrams, has announced that the eighth book in the popular Wimpy Kids series will have a major major simultaneous international release in November 2013.
Diary of a Wimpy Kid Book 8
will will go on sale in the United States in November 2013. The United Kingdom, Australia, Germany, Greece, Japan, Korea, and Norway will release the book in their respective territories just after the U.S. debut.
Amulet Books also revealed the above image by Jeff Kinney to tease fans about what may happen to Greg Heffley in the new book. Greg is standing under an umbrella with Magic 8 balls raining down on him.
Kinney said in a statement, "Never in my wildest dreams did I think that Greg Heffley's stories would be enjoyed by this many kids around the world. I'm incredibly excited that Abrams is launching the newest Diary of a Wimpy Kid book with an international release of this size."
The series began in 2007 with the publication of the first book in the series. The books have been a fixture on bestseller lists. The first book has remained in the top top 150 on the
USA Today
bestseller list for over 200 weeks. There are over 85 million Wimpy Kid books in print.
Image: Jeff Kinney
More from Readers Read