Dina McGreevey Tells Her Side of the Story
Posted on April 23, 2007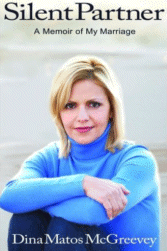 Dina Matos McGreevey is finally
having her say
about her ill-fated marriage to former New Jersey governor Mark McGreevy. The New York Daily News reports:
The sex was good. But that's the only nice thing Dina Matos McGreevey has to say about her sham of a marriage to gay former Gov. Jim McGreevey. In her new memoir, "Silent Partner," the former first lady of New Jersey portrays her ex-husband as a self-absorbed liar who never gave a genuine apology and tried to strong-arm her during divorce negotiations. She oozes bitterness recounting how he ruined her life by bedding another man and how he insisted she smile brightly during his notorious "I am a gay American" resignation speech.

"You have to pull yourself together," he sternly told her before the 2004 announcement that shocked the nation. "You have to be Jackie Kennedy today." The 290-page book obtained by the Daily News comes out May 1, just as the warring exes are in the throes of a nasty custody battle over their daughter, Jacqueline. "Silent Partner" is Dina's answer to Jim's autobiography, "The Confession."

*****

She didn't learn he was certain he was gay - "a gay American" - until she read a draft of his speech a few hours before he delivered it. "You have to smile," he reportedly reminded her on the way to the announcement. "And if reporters ask you why you're here, you should tell them, 'I'm here because he's my husband and I love him.' "And if the reporters ask you what you think of gay marriage, you should say, 'I'm sensitive to the issue.'" "Make sure you smile a little more when I ask for forgiveness and thank you for bringing joy to my life," he added. Matos McGreevey writes that she was particularly stung by a passage in the speech where he mentioned his love for his first wife but not his love for her.
McCreepy was a real pig, apparently. He made Dina and her daughter move out of the governor's mansion before they had a place to live. He kept telling her to act like Jackie Kennedy Onassis, while he acted like Atilla the Hun. We hope her book,
Silent Partner
outsells his sleazy memoir.
More from Readers Read