Writing Book Reviews
The Internet Writing Journal
Page One of Two
The Complete Guide to Writing & Selling the Christian Novel by Penelope J. Stokes
Writers Digest Books, Feb., 1998.
Trade Paperback, 239 pages.
ISBN: 0898798108
Ordering information:
Amazon.com.
The specialty writing book focuses on the popular Christian novel. Dr. Penelope Stokes, an author and book editor, teaches you how to approach this market and how to improve your writing. The guide includes instruction on writing the Christian novel and how to get a finished novel published. The book focuses on the intricacies of writing Christian novels including an introduction to the field, how to address spiritual issues, how to convey moral values, character and plot development, dialogue, rewriting and manuscript submission to Christian markets.
This book can help you learn the principles involved in writing fiction that will inspire and fulfill your readers and teach you how to turn your work of fiction into a salable manuscript. A complete guide to writing and selling the Christian novel.
---
How To Get Happily Published by Judith Appelbaum
Harper Perennial, April 1998.
Trade Paperback, 380 pages.
ISBN: 0062735098
Ordering information:
Amazon.com.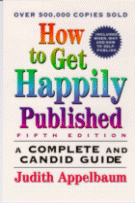 Judith Appelbaum, former managing editor of
Publishers Weekly
, helps demystify the publishing process and book industry in this latest edition of her popular how-to book. The book addresses subjects of interest to all writers including writing courses and other writing aids, agents, where to submit a manuscript, how to submit a manuscript, comparing different contract offers, how books are marketed, book promotion and self-publishing. The book also includes an impressive of collection of publishing and writing resources, including books, periodicals, organizations and websites.
A practical guide to getting published,
How To Get Happily Published
, provides writers with the information they need. The book eliminates some of the trial and error process writers would normally go through in their publishing journey by telling them what to expect and how to do it right from the get go. In addition, the book also provides insight into the quirks of the publishing world. This information-packed book is an invaluable tool for aspiring authors.
---
Click Here For Page 2 of Writing Book Reviews
Return to Book Reviews Index