Writing Book Reviews
The Internet Writing Journal
How To Write Your Novel by Margaret Chittenden
The Writer, Inc., 1995.
149 pp. ISBN: 0871161788.
Trade paperback, $10.95 U.S.
Ordering information:
Amazon.com.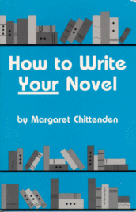 How to Write Your Novel
is an invaluable aid to the aspiring author. Popular novelist Margaret Chittenden takes you by the hand and leads you through the confusing maze which you must learn to navigate if you ever hope to see your name on a book jacket. In Part I, Preparation, she reveals how to find a great idea for a novel, how to develop it into a storyline complete with characters, plot and setting in a way that will hold your readers' interest to the end of the story. Part I also covers the crucial elements of point of view, voice and style, as well as how to write a successful synopsis.
Part II, "The Writing" tells you how to use the skills you learned in Part I to create a rough draft, devise interesting and believable characters, write natural and entertaining dialogue and craft an ending that will please yourself and your readers. So, your novel is written: now what? In the last chapter, "Marketing Your Novel", Chittenden gives tips for choosing a title, getting an agent to sell your finished work and ideas on marketing your finished work.
Written in Chittenden's characteristically charming and witty style,
How to Write Your Novel
is informative and entertaining at the same time. You almost feel that Chittenden herself is right there behind you encouraging you to get those thoughts down on paper. A must-have for novice writers.
---
Writer's Guide to Book Editors, Publishers, and Literary Agents by Jeff Herman
Prima Publishing, 1997.
864 pp. ISBN: 0761510125
Trade paperback.
Ordering information:
Amazon.com.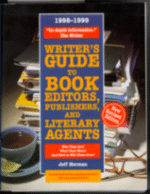 This information filled resource is just what the author ordered. The book provides detailed information about book editors, publishers and literary agents in an easy to use format. The brunt of the book, over 500 pages, provides detailed information about publishers including United States publishers, University publishers, religious and inspirational publishers and Canadian publishers.
Each publisher listing includes contact information, the names of the editors and additional information including recent books published, information on any imprints the publishing house has and an explanation of the company: its style, origin and publishing focus. The literary agents directory contains contact information and listings of the agents, some of which include bios. The agency listings also include agent's responses to questions such as "Description of the Client from Heaven (and Hell)" and "What writers can do to enhance their chances of getting an agent (besides being good writers)". Another section in the book includes useful articles by Jeff Herman and published authors, including "Write the Perfect Query Letter", "Rejected... Again: The Process and the Art of Perseverance" and "The Author-Agency Agreement". This is an excellent reference book which also educates you on the book publishing industry.
---
Return to Book Reviews Index