Mystery/Thriller Reviews
The Internet Writing Journal
,
September 2002
The Beach House by James Patterson and Peter De Jonge
Little, Brown, June, 2002
Hardcover, 358 pages
ISBN: 0316969680
Ordering information:
Amazon.com
|
Amazon.co.uk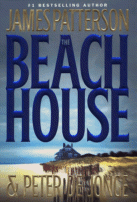 Best known for his bestselling series starring Alex Cross, James Patterson teams up with Peter de Jonge to provide a stand-alone novel about wealth, intrigue and murder. On Memorial Day weekend in the Hamptons, handsome townie Peter Mullen is found dead on the beach. The wealthy Neubauer family insists that the car-parker drowned. But Peter's Columbia University law student brother Jack thinks otherwise. As he delves deep into the lies and corruption of this enclave of the rich and famous, Jack finds out that his brother was doing much more than parking cars for some of the wealthy ladies that lunch. With the help of a female PI, his grandfather and some other locals, Jack sets out to get a little justice all on his own.
The Beach House
is a great summer read. It's full of action, thrills and villains that sorely deserve some retribution. Jack, the working class hero is a likeable fellow, and his story of turning the tables on the super-rich and super-nasty Barry Neubauer is good, entertaining fun.
---
Dead Midnight by Marcia Muller
Mysterious Press, June, 2002
Hardcover, 289 pages
ISBN: 089296765X
Ordering information:
Amazon.com
|
Amazon.co.uk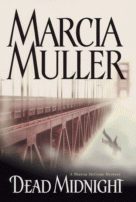 In this twenty-second outing for Sharon McCone, the savvy private eye dives into the sleazy world of the dot com boom in the Bay Area. Reeling from her brother's suicide, Sharon reluctantly agrees to look into the suicide of Roger Nagaswa -- he jumped to his death off the Bay Bridge, supposedly from being abused and overworked at Insite, the trendy online magazine where he worked. Before he died, Roger was investigating some corrupt practices at the company, and his death was very convenient for a number of people. With the help of her reporter friend J.D., Sharon manages to get inside Insite, and finds a hornet's nest of lies, deception and corruption. The company is about to go bankrupt, and the venture capitalist who has access to the all-important cash infusion is missing. As Sharon delves deeper into the lives of the Insite employees, she realizes that there are people out there who are willing to kill to keep their secrets out of the public eye. And one of them just framed her for the murder of one of her best friends.
Marcia Muller is at the top of her game with her latest book. Sharon McCone was one of the first fictional female private eyes, and she has evolved in interesting ways over the years. The mystery is tightly plotted and the characters are vividly portrayed. Muller's love for San Francisco shines through in her elegant descriptions of the city. This series is still as fresh and entertaining as ever; Ms. Muller is an outstanding talent.
---
Mystery Book Reviews
Page One |
Page Two
|
Page Three
Click Here to Return to the Book Reviews Index