Children's Book Reviews
The Internet Writing Journal
,
September 2002
Star Girl by Jerry Spinelli
Knopf, May, 2002
Trade paperback, 192 pages
ISBN: 037582233X
Young Adult
Ordering information:
Amazon.com
|
Amazon.co.uk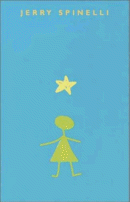 When
Stargirl
was originally published in hardcover in August, 2000, it attracted widespread acclaim as the
Publisher's Weekly
Best Book of the Year, Parents' Choice Gold Award Winner, and an ALA Top Ten Best Books award. It went through eight printings and was a
New York Times
Bestseller.
Stargirl
is now published in paperback, so it should become even more widely known.
The story of Stargirl is the tale of what happens to those who are different in an American public high school. Recognized for what it really is in this story, the over conforming and intolerant culture of the American public high school is set in an Mica, Arizona, a town that is built around the electronics industry. Stargirl is a new student who was previously home schooled but has decided on making more friends by attending the local high school. The story is told by Leo Borlock, a fellow student, who has found his own niche by inventing with a friend a TV show called Hot Seat. Hot Seat features an interview of a local high school teen by an interviewer and a jury that can ask questions of the interviewee. Stargirl arrives on campus and she immediately attracts attention because she is very different. She plays a ukelele, keeps a pet rat in her tote bag, treats everyone with kindness and serenades them in the lunchroom on their birthdays. The other students are aghast. Then Stargirl becomes even more outrageous by attending the football game of the perennially losing team. Her antics are so outrageous at sports events that everyone actually starts attending, and to everyone's surprise, the teams start winning. Stargirl is invited to be a cheerleader, and she actually is very good and begins to be well liked. But Stargirl cheers for every touchdown and basket (even the other team's), and this completely baffles the student body and then turns them against her.
Things begin to change for Stargirl and for Leo Borlock, who has fallen in love with her. Leo actually finds himself suggesting that Stargirl become more like the other students, "normal". But when Stargirl studies hard about how to become "normal," it makes things worse. Fitting in does not work, so she returns to being herself. The big surprise comes when Stargirl shows up at the Octillo prom as herself. Her final triumph is a complete surprise to everyone, and it somehow leaves a lasting impression that endures through class reunions.
Stargirl deserves the respect it has achieved; it will undoubtedly reach even more readers now that it has been published in paperback form.
--Sarah Reaves White
---
The Winged Cat: And Other Tales of Ancient Civilizations by Deborah Norse Lattimore
HarperTrophy, May, 2002
Trade Paperback, 64 pages
ISBN: 0064421546
Ages 7-10
Ordering information:
Amazon.com
|
Amazon.co.uk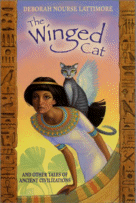 Deborah Norse Lattimore, who comes from a family whose hobby was archeology, has written a little book that will bring the world of ancient civilizations into the world of the twenty-first century child and make it seem familiar and believable. The first story of the Winged Cat will appeal because it is an animal story and it is also the story of a plucky girl who must stand up to a wicked priest, a pharaoh, and powerful, evil spirits in the Netherworld. Her only real help is from the winged cat. The winged cat is the spirit of the poor cat that the evil priest had killed and the girl, Merit, had tried to save. Pharaoh has sent all of them to the Netherworld to be judged. Merit is assisted by the winged cat, who like all cats, is tremendously practical and skilled in the art of survival.
Folktales and myths not only explain the point of view of ancient civilizations, but also offer either cautionary tales, or they are filled with wisdom about how one should deal with the powerful forces of nature. Enki, a slave boy, befriends a dog and an old man as he travels across the desert with other slaves on their way to be sold in the great city of Babylon. On their way to the great city and an uncertain future, Enki and the old man, Abrahim, endure a terrifying sand storm which the people have personified as a giant, vicious dog named Pazuzu. Enki survives the storm, but he still hears some growling and snarling. He is surprised to find that this comes from a dirty, trapped dog. Enki helps the dog and the three stay together as they travel towards Babylon. In Babylon the two are chosen by the evil king, Nebuchadnezzar, to work on his tower. The old man is a talented artist. With an inspired plan, the old man and Enki are able to escape from bondage with the help of Pazuzu, who again becomes the powerful sand storm. The story of the Minoan prince Akros and his sister Illyra teaches about what can happen to a powerful athlete who challenges a goddess but whose pride and boasting finally bring about defeat.
The author's notes at the beginning and preceding the story of "The Prince and the Golden Ax" are filled with the wonder she feels in investigating ancient myths and folk tales. Reading them just might inspire a young reader to become familiar with those ancient civilizations that still influence our world today to this day.
--Sarah Reaves White
---
Children's Book Reviews
Page One
|
Page Two
|
Page Three
|
Page Four
Return to Book Reviews Index
More from Writers Write