Children's Book Reviews
The Internet Writing Journal
,
September 2002
Pendragon: The Merchant of Death by D.J. MacHale
Aladdin Books, September, 2002
Trade paperback, 368 pages
ISBN: 0743437314
Ages 10 and up
Ordering information:
Amazon.com
|
Amazon.co.uk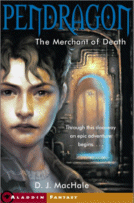 Bobby Pendragon is a fairly normal fourteen-year-old high school student. He lives with his parents, his little sister and his dog Marley. He also has a favorite cool uncle, who he sees periodically over the years. One evening, just before the big game, Bobby's Uncle Press shows up at his house and asks him to trust him, ask no questions and to come with him at once. Bobby reluctantly agrees, and unwittingly follows his uncle to another world, known as Denduron. Denduron is a primitive world which is ruled by a vicious tyrant and is on the cusp of a revolution. Uncle Press informs Bobby that he is the chosen one, and it's up to him to save this world…and possibly his own. Totally unprepared, missing his family and friends, Bobby wants nothing to do with the strange task he has been set. But when Uncle Press' life is threatened, Bobby shows that he just may have what it takes to save the universe.
The
Merchant of Death
is the first book in a projected series starring Bobby Pendragon. Written alternately in third person, and in first person accounts by Bobby (he finds a magical way to send his letter to his best friends Mark and Courtney), the story follows both Bobby's adventures in Denduron, and Mark and Courtney's activities back on Earth as they react to Bobby's mysterious disappearance. Bobby is a likeable teen and his reactions ring true, but Uncle Press is incredibly annoying at times. His continuing refusal to explain anything at all to Bobby creates most of the problems that Bobby could have handled if he had just been given some simple instructions about how to travel between worlds and what the rules are. Mark and Courtney are great characters; one hopes that they get to join in future adventures, instead of just sitting on the sidelines reading Bobby's mail. Still, the storyline is well-imagined, and interesting enough to generate excitement for the next installment.
---
Remote Man by Elizabeth Honey
Knopf, July, 2002
Hardcover, 256 pages
ISBN: 0375814132
Ages 10 and up
Ordering information:
Amazon.com
|
Amazon.co.uk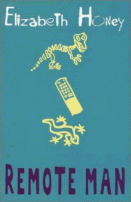 Ned Spinner is a thirteen year-old middle school student who lives in Melbourne, Australia who has a deep interest in reptiles and a talent with computers. Ned's email name is Remote Man. His mother is a research scientist who has been doing research on trees and tree diseases. Ned's world is beginning to fray as he postpones homework for surfing the TV for shows. His mother and he do not see eye to eye about his responsibilities. Then things become rapidly worse as Janet, Ned's mother, sinks into severe depression from the stress of her job, family finances and raising a son on her own. Ned is sent to stay with relatives who live in the outback of Australia where he renews his friendship with his cousin, Kate. One day a strange, well-dressed "cowboy" comes to buy aboriginal paintings, but appears more interested in the wildlife of the region.
As soon as Ned returns to Melbourne he finds out that his mother plans to go for an extended visit to the United States to stay with the mother of a friend in a place called Concord, Massachusetts. It is here that Ned meets a neighbor his own age called Rocky. In Concord, Ned again meets the "cowboy" and discovers that he is involved in selling endangered species to people around the world who are able to pay well for them. Ned, Rocky and Kate add a boy in Jamaica and a girl in France to their now international plan to bring this criminal to justice. Emails fly as the conspirators plan a trap for the man who rips animals from their environments and sells them to the highest bidder. This man who started as a Hollywood stuntman is a dangerous target.
It is easy to understand why Elizabeth Honey is one of Australia's most popular authors, because
Remote Man
is exciting up to the very last page. The chapters are short and events are fast-moving. The problems of growing up take a back seat when the young teens focus on a common enemy and set out to bring about his downfall.
Remote Man
reflects contemporary teen life with its inclusion of emails, chat rooms and websites which form a major part of the communication style of this next generation.
--Sarah Reaves White
---
Children's Book Reviews
Page One
|
Page Two
|
Page Three
|
Page Four
Return to Book Reviews Index
More from Writers Write