Reviews of Writing Books
The Internet Writing Journal
,
September 2001
A Good Book is the Best of Friends: A Reader's Journal by Robin Doak, introduction by Natalie Goldberg
Hyperion, July, 2001
Paperback, 155 pages
ISBN: 0786867191
Ordering information:
Amazon.com
|
Amazon.co.uk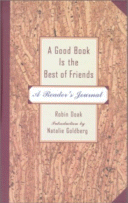 This book is a delightful journal filled with pages that readers can use to write down their thoughts about a book or novel they are enjoying. The book includes room for entries about twenty-five books; each entry provides plenty of space to record your thoughts. Also included are a section for you to record book information, questions for you to answer to get you thinking about what you read and blank pages so you can record their own personal feelings. The book also includes some inspirational thoughts from author Natalie Goldberg. This is a very useful and attractive little book for readers and writers. It would make a great gift for anyone who frequents a book club or reading group.
---
Hooking the Reader: Opening Lines that Sell by Sharon Rendell-Smock
Morris Publishing, July, 2001
Paperback, 215 pages
ISBN: 0965498123
Ordering information:
Amazon.com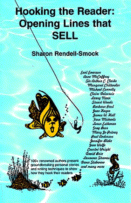 Beginning writers are often told to open with a bang. But how do you come up with that killer opening line? This writing book focuses on creating effective openings. The book contains advice from hundreds of authors, as well as the opening sentences from their books. Some of the authors featured include Anne McCaffrey, Stuart Woods, Michael Connelly, Poul Anderson, Dana Stabenow and Larry Niven. The book also includes "Off the Shelf" sections, which contains lists of good openings to books. Some example openings are "I felt compelled to report that at the moment of my death, my entire life did not pass before my eyes in a flash," from Sue Grafton's
I is for Innocent
; "For more than two hundred years, the Owens women have been blamed for everything that has gone wrong in town," from Alice Hoffman's
Practical Magic
; "Nobody thinks about death on a nice spring day," from Ed McBain's
Ten Plus One
; and "The world had teeth and it could bite you with them anytime it wanted," from Stephen King's
The Girl Who Loved Tom Gordon
. The most interesting part about the book is what each author has to say, which is often enlightening and entertaining.
Hooking the Reader
is an interesting and useful book for writers needing assistance with writing openings or just curious about how other authors create openings to their bestsellers.
---
The Writer's Guide to Queries, Pitches and Proposals by Moira Allen
Allworth Press, August, 2001
Trade Paperback, 274 pages
ISBN: 1581150997
Ordering information:
Amazon.com
|
Amazon.co.uk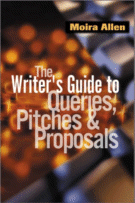 Most editors at top-notch magazines want to see a query before they will allow a writer submit a complete article. Because of this fact, effective queries are one of the most important skills a freelance writer can develop. A great query can open the door to good paying freelance opportunities. As the book's author, Moira Allen, says, "To compete with the thousands of 'good' writers in the marketplace, you have to be able to develop queries and proposals that are more than simply 'good'. They have to stand out in every respect: content, preparation, and presentation." Author Moira Allen has been on both sides of the fence. As a highly successful freelancer, she has submitted queries to publications. As as an editor of print magazines and websites she has received hordes of queries and article submissions. Moira Allen now writes books and continues to freelance, as well. She also runs her own Query Letter Clinic and writer's resource at
Writing-World.com
. Moira's latest book provides advice and instruction on the difficult task of writing queries, backed up with examples of successful queries. The book covers a number of different types of queries, including electronic queries, book proposals, newspaper queries, novel proposals and many others. Moira provides plenty of advice, examples, tips and links to additional resources to help writers learn to write queries that can help them get sales. This is an excellent book for freelance writers looking for a way to beat out the competition.
---
Return to Book Reviews Index