Romance Book Reviews
The Internet Writing Journal
Page Two of Two
To Catch An Heiress by Julia Quinn
Avon, July 1998.
Paperback, 377 pages.
ISBN: 0380789353.
Ordering information:
Amazon.com.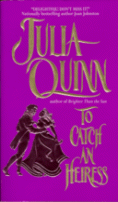 Caroline Trent will come into her own money on her upcoming birthday in just 6 weeks, but not if her odious guardian has anything to say about it. He is hell-bent on marrying Caroline off to his own half-wit son in order to get control of her fortune. But Caroline is just as determined not to marry the detestable Percival Prewitt, and so runs away. Agent of the British crown Blake Ravenscroft has waited a long time to get his hands on the notorious spy, Carlotta de Leon, and so is overjoyed to capture her on a dark road just where British intelligence had predicted she would be. There's only one problem -- he's captured Caroline, not Carlotta. Caroline keeps mum about her identity in order to escape her guardian, but of course Blake soon learns the truth. By that time, sparks are flying between the two and they must team up to find out who Carlotta's local contact is and to put a stop to the espionage ring.
Caroline Trent is a feisty, intelligent and amusing heroine who has a habit of recording new vocabulary words in her journal to reflect the day's events, as well as the appropriate use of the word in a sentence -- which are usually quite funny. The repartee is quick and snappy and the lead characters appealing. Another wonderfully entertaining journey with the gifted Julia Quinn.
---
My Lady in Time by Angie Ray
Jove, Feb., 1998.
Paperback, 293 pages.
Ordering information:
Amazon.com.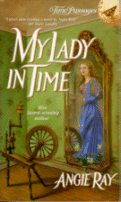 Handsome playboy Derek Sinclair thoroughly enjoys his life. With plenty of money, a cushy family job and plenty of female companionship, life is just one grand game -- until the night that the ghost of Lady Allison Pelsworth appears, begging him to travel back in time to 1498 to save her from a disastrous marriage which will destroy her family and theie ancestral castle. Three sheets to the wind, Derek agrees, believing it's a dream. It's not. The next thing he knows he is in medieval England without a stitch on and someone is threatening to kill him. What's worse, Lady Allison doesn't even seem to remember summoning him. Derek must learn to fit into this world and become a knight in order to find the secret which will take him back home. But what he doesn't count on is the rigors required of a knight in training or falling in love with the beautiful, if somewhat disdainful, Lady Allison.
My Lady in Time
is a well-researched historical mystery with a highly amusing premise. Derek, the Southern California playboy who must endure the rigorous training of a medieval knight -- jousting, riding in armor, swordfighting, and courtship -- is hilarious to watch as he is forced to endure cigarette and hamburger withdrawal in a land where no one has ever heard of the modern conveniences we take for granted. The chemistry between Derek and Allison is fiery and the historical background is very well-done. Charming and amusing,
My Lady in Time
is perfect for those who like a little time travel with their romance.
---
Romance Reviews
Page One

Return to Book Reviews Index