Romance Book Reviews
Page Three of Three
The Wild One by Danelle Harmon
Avon, Dec., 1997.
Paperback, 373 pages.
ISBN: 0380792621.
Ordering information:
Amazon.com.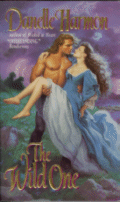 Juliet Page is alone in the world with only her infant child, having left her old life in Boston to travel to Berkshire, England. It was her deceased fiance, Charles' wish that Juliet return to his family's estate to be looked after. During her travels to Berkshire, however, the coach she was traveling in is robbed. All the travelers would have been hurt much worse had a gentleman not come upon the scene during the robbery. Lord Gareth de Monteforte, better known as "The Wild One," heroically rescues the passengers and unbeknownst to him, his brother's fiance and her infant daughter. Despite his older brother, Lord Lucien's refusal to accept her into the family, Gareth sets out to do the honorable thing and marry her to give her child a last name.
Lord Gareth sets out to prove to eveyone that he is capable of providing for his new wife and child. However, the only skill he has is fighting which is quite dangerous; if he is killed, where will Juliet be? Just as Juliet feels her world is caving in around her she discovers that reaching out for help -- especially to your family -- can be just as challenging and rewarding as solving problems on one's own.
Danelle Harmon is consistently warm and detailed in her descriptions of places and events. With a compelling plot and fascinating characters,
The Wild One
is impossible to put down. The ending is a real shocker -- it appears that the book is just the beginning of a series of books on the deMontforte brothers. Readers will be breathless with anticipation for the next installment of this exciting story.
--Barbara Paschall Averitt
---
This Time for Keeps by Kathleen Kane
St. Martin's Press, April, 1998.
Paperback, 313 pages.
ISBN: 0312965095.
Ordering information:
Amazon.com.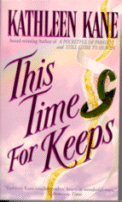 Tracy Hill just died -- again. Each one of her eight lives has ended disastrously. As soon as it looks like she might find true love, a ridiculous accident takes her off and the reincarnation process must start all over again. So Tracy makes a deal with the Resettlement Committee -- she'll only agree to go back if she can have health, wealth, no love and she gets to remember all her past lives. Unfortunately Tracy, an advertising executive in 1998, forgets to specify a date and is horrified upon awakening to find herself on a ranch in Montana in 1875. Luckily though it looks as if love is far away -- her handsome blue-eyed ranch foreman is not her type at all. At least not at first. As Tracy and her foreman Seth Murdoch get to know each other sparks flare. Then the dreams from her past lives begin and the lover that gets her killed in every lifetime looks suspiciously like her new foreman. As Tracy and Seth fall for each other they have to decide what to do. Will falling in love just get Tracy killed again or could this be the time they get to live happily ever after?
Kathleen Kane has outdone herself with
This Time for Keeps
. Tracy is a delight and her struggles as a woman of the 1990s trying to adapt to the mores of the 1870s is hilarious to watch, as are her spirited exchanges with the mystified Seth Murdoch who is attracted to this woman despite her strange ways such as demanding to wear blue jeans -- to the absolute scandal of the entire community. With a zippy pace and lots of interesting tension between Seth and Tracy
This Time For Keeps
is a winner.
---
Non-Fiction Reviews
Page One | Page Two

Return to Book Reviews Index