Romance Book Reviews
Page Two of Three
Indiscretion by Margaret Allison
Pocket Books, July, 1996.
Paperback, 326 pages.
ISBN: 0671563289.
Ordering information:
Amazon.com.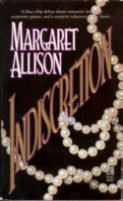 An old college friend of Katherine Wells convinces her to move to Baltimore and submit her resume to a well- known manufacturing giant, Benson. After arriving in town, she meets a handsome stranger in a pub; unbeknownst to her it's her future boss, Michael Benson. She discovers the identity of her new boss just after taking up her duties as the new marketing director. Mortified, she hopes that he won't recognize her. Because he is the head of a respected family firm and very professional, he ignores the fact that they had met before and carries on with business as usual. However, the chemistry between them is irresistible and he is drawn to her as much as she is drawn to him. When a corporate crisis threatens his empire, they are driven apart by interfering business associates, jealous family members and vicious rumors. Together, they learn to communicate openly -- and realize that there is more to life than just business.
Margaret is a quick-witted, wonderful writer.
Indiscretion
is a fast-paced book full of intrigue, romance and an inside look at the life of a corporate giant which will keep readers spellbound to the very end.
--Barbara Paschall Averitt
---
Stolen by Penelope Neri
Leisure Books, Jan., 1998.
Paperback, 390 pages.
ISBN: 0843943718.
Ordering information:
Amazon.com.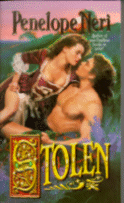 Quebec was not where Rose Trelawny thought she would be living, especially with a man she didn't know. Mistakenly kidnapped in London by Drummnd McLeon, suddenly she was being dragged away to a ship setting sail for the New World. Rose didn't go without a fight -- and the last word. After being forced onto the ship, Rose pleads with the Captain to understand her situation. Drummond, naturally, presents a different tale entirely to the Captain and insists that they be married immediately. The Captain complies and Rose is now a married woman. The ship's small quarters forces them to be together, igniting a deep passion for each other.
When Rose finally is able to convince Drummond that he had kidnapped the wrong person, Drummond offeres her a safe passage back to England or any other land. She decides to stay to make a life together with her new husband; however, living in the wilderness can be very dangerous and provides many more challenges for Rose and Drummond.
A book about mistaken identities and what can happen as a result of being at the wrong place at the wrong time, Penelope Neri's latest novel is well-written and full of intrigue, with colorful characters. The ending is simply enchanting and will appeal to lovers of romance.
--Barbara Paschall Averitt
---
Non-Fiction Reviews
Page One | Page Three

Return to Book Reviews Index