Romance Book Reviews
The Internet Writing Journal
Violets in the Snow by Patricia Grasso
Dell, Jan., 1998.
Paperback, 356 pages.
ISBN: 044022408X.
Ordering information:
Amazon.com.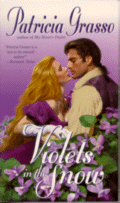 Isabelle Montgomery is all alone in the world except for her adored older brother, Miles and a guardian angel, Gisell, whom only she can see. When Miles goes to the colonies to pursue a business venture Isabelle is left at the mercy of her hated stepmother and detestable two stepsisters. Then, to make matters worse, she discovers that Miles has arranged for her to have a guardian while he is away: Lord John Saint-Germain, one of London's wealthiest and most notorious rakes. Saint-Germain sweeps into the picture and carries off a reluctant Isabelle and her eager stepfamily to London for proper debuts in order to catch husbands. But somewhere along the way, Lord Saint-Germain discovers a passion for his ward which is only dampened by the fact that she talks to her "imaginary friend", making her appear unstable. While these two fence with each other to discover their true feelings, danger lurks in the form of Saint-Germain's brother-in-law who irrationally blames Saint-Germain for his sister's death and will do anything to have his revenge -- including ruining Isabelle.
A Cinderella story set in a Regency background,
Violets in the Snow
is a charming romantic fairy tale. Saint-Germain is a lovable rascal with a kind and passionate heart under his commanding exterior. Isabelle is a lovable heroine as is her guardian angel, Giselle. A light-hearted read with an appealing storyline,
Violets in the Snow
will delight lovers of fairy tales and romance.
---
Mountain Bride by Susan Sawyer
Avon Historical Romance, Oct., 1997.
Paperback, 343 pages.
ISBN: 0380784793.
Ordering information:
Amazon.com.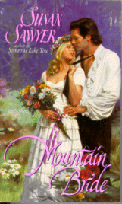 Lord John Winslow, the second son of the Duke of Havenshire, led a pampered existence -- until his father the Duke determined that a trip to the new "Second Sons" colony of Rugby, Tennessee was just what his profligate son needed to toughen him up and teach him to earn a living. After all, his elder brother Alexander would inherit the title as well as the family estate and wealth under England's primogeniture laws. Told that the colony would resemble an English village in a beautiful landscape, Lord Winslow agrees to the journey with the idea that he will make his fortune in a few months then return to his life in England consisting of lawn tennis, horseback riding, gambling and womanizing. When he arrives at the colony he is aghast to find a primitive town peopled with colorful, kind but unsophisticated and uneducated mountain folk including Coralee Hayes, a beautiful widow who is not impressed with the Englishman's arrogant ways. As Winslow gets to know the townspeople and begins to work for a living for the first time in his heretofore luxurious existence, he finds a new perspective on life as well as a tempestuous relationship with the beautiful Coralee, who is determined not to fall for a spoiled aristocrat who will eventually leave Tennessee for his beloved England.
Susan Sawyer creates a fascinating and unusual hero in Lord Winslow who discovers his own strengths under his pampered exterior with the help of the uneducated but wise Coralee. The historically accurate details of the "Second Sons" colony and the tensions between Lord Winslow and Coralee combine to make an enthralling read. An entertaining and thoughtful romance.
---
Murder While I Smile by Joan Smith
Fawcett Crest, Jan., 1998.
Paperback, 217 pages.
ISBN: 0449224945.
Ordering information:
Amazon.com.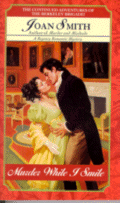 The Berkley Brigade, the adventuresome foursome who manage to combine sleuthing and romance with their social duties as the London ton's most popular young social set, is back in this lighthearted Regency tale. This time, a mysterious French comtesse appears on the scene selling possibly forged works of art and setting her cap at Lord Luten, much to the chagrin of Corinne de Coventry, Luten's fiancé. Lord Luten decides to get closer to the possibly spurious comtesse in order to discover whether she is selling fake paintings to his friends, or worse, becoming involved in English politics and influencing Parliament as to which firm should get a lucrative arms contract which could affect the war effort in France. Unfortunately, he decides not to inform his fiancé of his plans which infuriates her, to say the least. When the comtesse's painter who is responsible for the forgeries turns up dead -- found by Corinne -- the race is on to find out just what the comtesse's game is: espionage, romantic intrigue or both? A charming and lighthearted romantic tale for those who like the spice of a little intrigue with their romance.
---
Return to Book Reviews Index