Romance Book Reviews
The Internet Writing Journal
The MacGregor Brides by Nora Roberts
Harlequin Silhouette, Nov., 1997.
ISBN: 0373483503
Paperback.
Ordering information:
Amazon.com.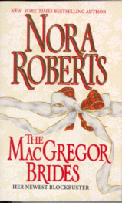 Nonagenarian Daniel MacGregor refuses to wait any longer for his three career-minded granddaughters to make time for love, and, more importantly, marriage and grandbabies. With only the best of intentions, he meddles in each of their lives, finding Laura, Gwendolyn and Julia the man of their dreams. The only problem is that the three cousins don't want or need their grandfather's help, and love is the last thing on their minds. Daniel MacGregor knows his granddaughters so well, however, that they don't realize what he is planning until it is too late.
Once again, Nora Roberts weaves a contemporary love story densely populated with strong new characters and recurring favorites. The tight construction of this well-plotted novel lets even first time readers feel they are acquainted with the extended MacGregor family. Not only does the author deftly describe three love stories in The MacGregor Brides, Roberts shows how to keep the love alive in a marriage despite the challenge of combining a successful career with motherhood - one day at time! Highly recommended, this novel is both entertaining and inspiring.
-- Camille P. Potts
---
Whispers of the Wind by Donna Fletcher
Jove Historical Romance, 1997.
352 pp. ISBN: 0515120294
Paperback.
Ordering information:
Amazon.com.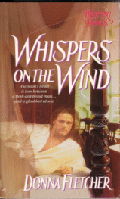 When American Belinda Latham inherits a castle in Cornwall she immediately packs her bags and sets sail for England. With no family left alive in the States, she sees an opportunity to start a new life for herself in a friendly village. But what the solicitors failed to tell her was that the estate is haunted by its handsome, adventurous former owner, Lord Maximillion Radborne who was lost at sea in a daring rescue in which he saved scores of lives. As Belinda sets about redecorating the castle to her own taste and settling in to her new life, she runs into opposition for her plans - from the lordly ghost himself. Maddeningly attractive, Lord Radbourne soon steals Belinda's heart and enlists her help in solving the mystery of his own death. But soon Belinda has another suitor - the town vicar, who is quiet and reserved, but oddly compelling. As Belinda learns more about the town's smuggling past which may have contributed to Radbourne's past, her relationship with both men grows until she is forced to make a choice: flesh and blood man or passionate ghost?
Headstrong and humorous, Belinda is a lovable heroine with depth and charm. Lord Radbourne is attractive, demanding and extremely mysterious. Whispers on the Wind reads equally well as a cozy English mystery with a strong romance element. The townspeople and secondary characters are surprisingly well developed and add depth and color to a story that you won't want to end. A wonderful book to curl up with on a cold winter's night.
---
Click Here for Page One of Romance Reviews.
Return to Book Reviews Index