Romance Book Reviews
The Internet Writing Journal
Glass Houses by Stella Cameron
Kensington, August 2000.
Hardcover, 384 pages .
ISBN: 1575665867.
Ordering information:
Amazon.com.
NYPD detective Aiden Flynn, whom we first met in Cameron's bestselling
Key West
, doesn't have much of a social life these days, to the despair of his partner and good friend, Vani. Aiden spends more time online than he does in the real world. But when his computer crashes, he heads upstairs to check his email on a fellow cop's computer who is on vacation. By accident, Aiden finds some really strange email in his friend Ryan's in-box. A terrified English photographer, Olivia FitzDurham, seems to be under the impression that Ryan is named Sam, and that he is an FBI agent. Thinking that Ryan must be dirty, Aiden eventually takes on Sam's persona and convinces Olivia to come to the United States so that he can protect her from the threats she has been receiving when she refused an offer to sell some freelance photos she took while on assignment for a magazine. Olivia comes to the United States and meets Aiden. But the pair have been framed for a crime they didn't commit, and must go on the run to clear their names. The chemistry between the two is intense and they must deal not only with danger, but with their growing feelings for one another.
At the end of
Key West
, many fans were clamoring to know more about the sexy NYPD detective Aiden Quinn. Those fans will be more than satisfied with Aiden's exciting story. Aiden and Olivia are a wonderful couple, and sparks really fly when they are together. The cast of supporting characters, including Aiden's beloved dog, (who is now fitted with metal teeth) and some really memorable crooks, round out the story nicely. The action is nonstop, the romance sizzles and the humor is wonderfully interlaced with the adventure. Aiden himself is a real dreamboat, and his story is unforgettable.
---
Where Dreams Begin by Lisa Kleypas
Avon, August 2000.
Paperback, 373 pages.
ISBN: 0380802317.
Ordering information:
Amazon.com.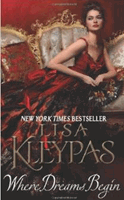 Being a highborn widow in 1830 London wasn't easy. Lady Holly Taylor had to suffer through three years of mourning, before it was considered acceptable for her to go out in society again. Not that Holly had much wish to go out; she truly loved her husband and misses him dearly. Zachary Bronson is a self-made tycoon, who is handsome and wealthy, but just a bit rough around the edges when it comes to the social graces that the ton values so highly. When an accidental kiss at a party introduces the two, Zachary cannot forget the beautiful but sad widow who so aroused his passions. He arranges for Holly and her daughter to come live with his family, to teach them the social graces. (His sisters really need some tutoring if they are to take their places in the ton.) Holly agrees for the sake of her daughter, and the benefits that the large salary will make in her daughter's life. The tutoring proceeds as planned, but neither Holly nor Zachary planned on falling in love. There are many obstacles to their union, however. Social class distinctions are not so lightly disregarded in this time period, and to Zachary it seems that Holly will never let go of her dead husband's memory in order to find a new life and a new love. And there is also the matter of the promise Holly made to her husband George on his deathbed, one that would prevent her from ever marrying Zachary.
Where Dreams Begin
is another absolute gem from Lisa Kleypas. The widow, Holly, is a total departure from most widowed heroines: she actually loved her first husband and misses him dreadfully. Zachary, the self-made man determined to make it in society, is sure to make your heart flutter, and the child Rose is quite charming. Holly and Zachary are a passionate and loving couple, and their story is simply enchanting.