Reviews of Writing Books
The Internet Writing Journal
Characters & Viewpoint by Orson Scott Card
Writer's Digest Books, March 1999.
Paperback, 182 pages.
ISBN: 0898799279
Ordering information:
Amazon.com.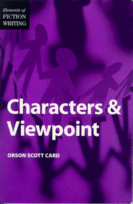 Chracters & Viewpoint
is part of the
Elements of Fiction Writing
series from Writer's Digest Books. This latest edition to the series, written by Hugo, Nebula and World Fantasy Award Winner Orson Scott Card, focuses on methods for developing your characters and how to choose a viewpoint that is in synch with those characters' thoughts and actions. Card provides information on what makes a good character, and suggests different places to get ideas for characters. He also provides tips for improving your characters, discussing such subjects as major and minor characters, emotional attributes, how to make your audience care about your characters, heroes, the common man character, comic characters and serious characters. He also provides instruction about character's voices and first person vs. third person narratives.
When the author of
Ender's Game
speaks, aspiring authors should listen. Creating interesting and believable characters and a compelling viewpoint are two of the most difficult skills for novices to master. In
Characters & Viewpoints
, Card shares the secrets for writing engaging characters which readers (and editors) will love. Highly Recommended.
---
Feminine Wiles: Creative Techniques for Writing Women's Feature Stories that Sell by Donna Elizabeth Boetig
American West Books, September 1998.
Trade Paperback, 184 pages.
ISBN: 1884956025
Ordering information:
Amazon.com.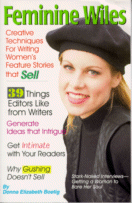 Successful freelancer and writing teacher Donna Elizabeth Boetig, who has been published in numerous women's magazines including
Family Circle, McCall's, Reader's Digest
and
Woman's Day
, guides writers toward the goal of publishing women's feature articles in
Feminine Wiles
. Her book is based on her experiences as a freelance writer and her popular writing seminars which are held across the U.S. and in Candada. Boetig addresses common stumbling blocks for writers including: a writer's first publication (the first time), finding ideas, writing query letters, getting interviews, interviewing skills, photographs, drama in women's stories, bylines, titles, submissions and self-promotion. The reference also includes special writing tips and techniques including the
Wall Street Journal
formula, a seven part formula to writing feature stories from the lead to the closing, and the
Reader's Digest
secret formula, a springboard to writing women's true stories.
Donna Boetig has created a comprehensive tool for getting published in women's markets, from finding ideas and interviews to writing effective and saleable articles.
Feminine Wiles
is an invaluable reference for freelancers seeking to learn how to write women's articles and stories -- and get them published. Highly Recommended.
---
You Can Write Greeting Cards by Karen Ann Moore
Writer's Digest Books, March 1999.
Trade Paperback, 122 pages.
ISBN: 0898798248
Ordering information:
Amazon.com.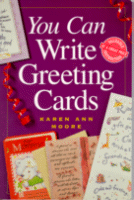 Writing greeting cards is a highly specialized area in the writing world. You have to know what the greeting card companies are looking for, as well as the methods for submitting your work, which range from index cards to email. This reference by professional greeting card writer Karen Ann Moore provides instruction on how to write for the greeting card industry, and how and where to submit your greeting card verse. Coverage in the book includes an overview of the greeting card industry, what it takes to be a greeting card writer, what makes a good greeting card idea, rhymes, cute and clever cards, humorous cards and how to approach greeting card publishers. Other information provided in the book includes a workbook with exercises to improve your creativity, information on how to keep up with trends in the industry, inside scoop on the greeting card business and examples of greeting card verse.
You Can Write Greeting Cards
is an excellent introduction to the beginner who is interested in selling his or her greeting card ideas.
---
Return to Book Reviews Index