Reviews of Writing Books
The Internet Writing Journal
Page Two of Two
Word Court by Barbara Wallraff
Harcourt Brace, January 2000.
Hardcover, 368 pages.
ISBN: 0151003815
Ordering information:
Amazon.com.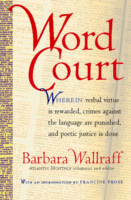 In today's world of cryptic email communications and high school graduates who are unable to express themselves clearly in their native language, the existence of
Word Court
, the popular grammar and style column written by Barbara Wallraff, is welcome proof that people still care about good writing. As an editor of
Atlantic Monthly
, Wallraff has reviewed the galleys of every article, short story, poem and feature scheduled to appear in the magazine since 1983. Her "Word Court" column answers readers' sometimes outraged questions about grammar and style with her trademark wit, humor and practicality. Her new grammar and style reference book is filled with grammar tips, explanations of common grammatical errors and answers to numerous grammar-related questions to help writers express themselves clearly. The book also includes some of the best question and answers from Wallraff's column. Topics in the book include trends in language, why people care about grammar, common grammar mistakes and grammar usage. A particularly useful section is entitled "A Grammarian's Dozen," in which Wallraff discusses thirteen grammar issues that plague writers. Another useful section in the book is an alphabetical usage guide which covers often abused and confused words, such as "And, But, Or", "Bi-", "Data", "Moment, Moments" and "While."
Barbara Wallraff's
Word Court
is a book that should be on every writer's reference shelf. Short story writers and freelance writers will also find it useful to see what grammar and style issues are considered important by a top literary editor. Scholars, students and word lovers will also enjoy this authoritative grammar compendium, which is as entertaining as it is useful. Highly recommended.
---
The User Manual Manual by Michael Bremer
Untechnical Press, November 1999.
Trade Paperback, 314 pages.
ISBN: 0966994914
Ordering information:
Amazon.com.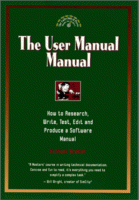 The User Manual Manual
helps to demystify the process of writing a software manual from start to finish. The guide begins with general information about software manual publishing, the different types of manuals and companies and development teams. The second part of the book is a sample project that guides the reader through the complete development of a manual and includes all the steps involved: project overview, writing the manual, validating, rewriting, editing, layout, final edits, printing, producing onscreen help, writing the readme and project backup. The third section in the book is the exhibits section which includes checklists, example documents, screen samples and a sample manual. The appendix in the book contains a list of recommended reading.
Author Micheal Bremmer, who was a writer, editor, writing manager and Director of Creative Services at Maxis software (the company responsible for SimCity), has created an indespensible guide to manual writing. Packed with instruction, checklists and samples, this reference is a must-read for technical writers.
---
You Can Write a Romance by Rita Clay Estrada and Rita Gallagher
Writer's Digest Books, August 1999.
Trade Paperback, 120 pages.
ISBN: 0898798620
Ordering information:
Amazon.com.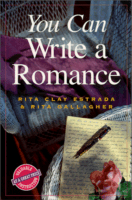 Beginning romance writers will find answers and direction in this compact guide to romance writing. Authors Rita Clay Estrada and Rita Gallagher provide tips, instruction and the inside scoop on the romance publishing industry. Some of the romance writing concepts covered include types of romance novels, agents, the publishing business, formatting manuscripts, action, conflict, plots, characters, subplots, motivation, heroes and heroines, dialogue, revisions and resources for romance writers. Rita Estrada and Rita Gallagher are more than qualified to provide advice to romance writers. Rita Gallagher and her daughter, Rita Clay Estrada, cofounded Romance Writers of America in 1980. Rita Clay Estrada has published over 30 romance novels and the Rita Award (an RWA book award) is named in her honor. In addition to expert advice, the two authors also include examples, tips from other well-known romance novelists and checklists to help writers reach their goals. An excellent introduction to romance novel writing for beginners.
---
Writing Book Reviews
Page One
|
Page Two
Return to Book Reviews Index