Reviews of Writing Books
The Internet Writing Journal
The Screenwriter's Legal Guide by Stephen F. Breimer, Esq.
Allworth Press, July 1999.
Trade Paperback, 299 pages.
ISBN: 1581150210
Ordering information:
Amazon.com.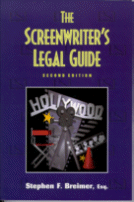 It is imperative that screenwriters have at least a general knowledge of the laws and rights affecting them.
The Screenwriter's Legal Guide
by author Stephen F. Breimer, a partner at Bloom, Hergott, Cook, Diemer and Klein, LLP, an entertainment law firm in Los Angeles, helps writers obtain a comprehensive overview of the legalese impacting the Hollywood writing business and understand how the movie and television business work from a writer's standpoint. Coverage in the book includes: option/purchase agreements, rights, copyright, agreements, rewrites, commissioned screenplays and teleplays, collaboration agreements, the writer's guild and negotiations. The reference book also provides excerpts of contracts, tips for calculating fees and earnings and a sample option/purchase agreement.
Although it may not be the most exciting or glamorous part of screenwriting, understanding screenwriting contracts and negotiations is essential for any serious screenwriter. Breimer helps novice screenwriters along by supplying the knowledge they need in a clear and concise manner, with occasional snippets and anecdotes from real life to make it easier to absorb. Breimer also provides an overview of the business world of screenwriter -- knowledge that professional writers must have. An essential tool for serious screenwriters.
---
Writing in Flow by Susan K. Perry, Ph.D.
Writer's Digest Books, May 1999.
Hardcover, 274 pages.
ISBN: 0898799295
Ordering information:
Amazon.com.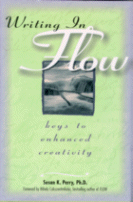 Writing in Flow
introduces and discusses the concept of flow, which is a period of enhanced creativity, similar to the condition athletes refer to as "in the zone."
Writing in Flow
teaches writers how to obtain a sense of flow and manage it to enhance their creativity and their work. The book also provides perspectives on creativity from numerous bestselling authors including: Sue Grafton, Jane Smiley, Faye Kellerman, Michael Connelly, Usula K. Le Guin and many others. The concept of flow is introduced to readers by Susan K. Perry, Ph.D., an author and social psychologist who is also an instructor at the UCLA extension writer's program. Perry analyzed the traits of bestselling and prize-winning writers and developed a psychological assessment of how great writers create their work. She combines the results of her study with practical advice for writers and conveys this information to the reader. The book provides coverage of each of the five keys to enhanced creativity which include: have a reason to write, think like a writer, loosen up, focus in and balance among opposites. Other sections in the book provide special techniques for developing flow and how to use flow to break-through writer's block.
With in-depth information on the psychological aspect of creativity and briefs by bestselling writers on their writing style and what inspires them, this is an enjoyable read and valuable learning aide for developing writers. Perry also provides answers to questions from students and friends during her study of flow throughout the text of the book.
Writing in Flow
is an excellent and unique guide for enhancing your creativity and inspiring yourself to write regularly.
---
Writing.com by Moira Allen
Allworth Press, August 1999.
Trade Paperback, 226 pages.
ISBN: 1581150296
Ordering information:
Amazon.com.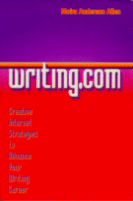 Writing.com
is a new reference book for writers from Moria Allen, a freelance writer and former editor of
Dog Fancy
magazine, who frequently covers topics relating to freelance writing and the Internet in her articles published in print magazines and online ezines.
Writing.com
provides much needed advice for writers new to Internet writing with both practical advice and links to writing and research hotspots online. Some of the writing-related topics covered in the book include: finding markets, conducting research, electronic rights, netiquette, chat, online learning, website construction and book promotion. Each topic also includes links to websites, online articles and other resources providing pertinent information. A comprehensive web guide is also provided in the back of the book, which contains categorized links to hundreds of writing websites.
The resource links provided in the book are fresh and reliable, and the information provided is accurate and current.
Writing.com's
thorough review of the online writing world and an excellent collection of writing resources will make this a welcome reference for any beginner looking to explore what's available for writers online.
---
Return to Book Reviews Index